Many people assume that a pre-existing medical condition will prevent them from securing life insurance cover, but this is not necessarily the case. The UK has the fourth-largest life insurance market globally, creating intense competition right across the sector. As a consequence, we have seen the emergence of niche life insurance companies. Many of these companies will offer life insurance even if you have a pre-existing medical condition.
What are pre-existing conditions for life insurance?
Life insurance companies will take into account many different pre-existing medical conditions. Some of the more common conditions which may impact life insurance cover and premiums include:
Diabetes
Cancer
Heart disease
High blood pressure
Asthma
Obesity
Epilepsy
Osteoarthritis
Mental health conditions
When looking at life insurance cover for over 50s, it is worth considering the more prominent causes of death for each age group. Using data supplied by the ONS, we have summarised the results below.
Aged between 50 and 64
Between 2001 and 2018, heart disease was the leading cause of death for males in this age group, with 17.2% of deaths attributed to the disease. Over the same period, there were three times as many male deaths as female deaths (6.8%) from heart disease.
In 2001 breast cancer accounted for 12.2% of female deaths in this age group – a trend that continued until 2007. However, from 2008 onwards, the leading cause of death was lung cancer, accounting for 10.1% of female deaths in 2018.
Aged between 65 and 79
Heart disease is still the leading cause of death for males aged 65 to 79. However, the rate fell from 26% in 2001 to 14.8% in 2018.
Heart disease was the leading killer for females in this group from 2001 to 2013. However, since 2013, lung disease has been the leading cause of death, accounting for 10.4% of deaths in this age group in 2018.
Aged 80 and over
In 2001, heart disease accounted for 21.8% of male deaths and 18.1% of female deaths. More recently, dementia and Alzheimer's disease have become more prominent, becoming the leading cause of death in males from 2015, responsible for 15.1% of deaths in this age group.
Dementia and Alzheimer's disease briefly became the leading cause of death for females in 2009 and has been consistently so from 2011 onwards.
The change in leading causes of death in different age groups illustrates historic lifestyles, taking into account trends in smoking, for example. It also reflects the ongoing improvements in medical care, which have been more successful in some areas than others.
Can you get life insurance if you're already sick?
It's vital to recognise that having a pre-existing medical condition will not necessarily impact your available life cover and premiums. For example, those with type I and type II diabetes will likely see very different results when applying for life insurance. This is because:
Type I diabetes is hereditary, with diagnosis typically at a very early age. Consequently, by the time an individual applies for life insurance, they will likely be able to manage the condition with relative ease.
Type II diabetes is seen by many as a "lifestyle" condition and, as a consequence, can emerge at any time in later life. As a result, those with type II diabetes will probably find it more challenging to obtain life insurance.
This is a perfect example of an ongoing medical condition that may or may not have an impact on your ability to secure life insurance. However, the chances are that even with type II diabetes, you should still be able to secure life insurance, although premiums will likely be higher.
What types of life insurance are available?
Different insurers have different life insurance policies available for those with pre-existing health conditions. The amount of cover you get depends on your individual circumstances. You'll often have a choice between policies with exclusions and those without. 
Policies with exclusions will exclude your pre-existing condition from the cover. The policy only pays out if your death isn't related to your medical condition. For example, you can get life insurance that excludes heart conditions and only gives a payout if you die from another unrelated illness.
Policies without exclusions will cover even your pre-existing condition. The cost of this type of life insurance policy is higher, but it guarantees your loved ones receives a payout no matter what. 
You can also choose between level term life insurance and decreasing term life insurance.
Decreasing term life insurance reduces the payout over time, usually in line with your outstanding mortgage.
Level term life insurance will pay out the same lump sum for the duration of your policy.
If you opt for specific over 50s life insurance, you will often be guaranteed to be accepted for a policy. These types of life insurance policies often have lower maximum payouts unless you're able to pay higher premiums, so ensure you take the time to consider which policy is right for your needs.
You may also decide to speak to a Financial Conduct Authority (FCA) regulated independent financial advisor for assistance with choosing life insurance and associated financial services.
You can find more information about life insurance from our comprehensive guide.
Can I get life insurance if I have a heart condition?
As we saw earlier, heart disease has been and continues to be a prominent cause of death in over 50s. If we look at life insurance for those with a heart condition, there are numerous issues to consider. A life insurance company will likely request details such as:
When a previous heart attack occurred
The severity of the heart attack
Treatment received in the form of surgery or medication
Current lifestyle habits
Statistically, those who have experienced a heart attack are more likely to experience another in the future. This will be taken into consideration, as will all of the above elements, including current lifestyle. Life insurance companies calculate premiums on cold hard facts and statistics, not emotion.
What other factors affect life insurance premiums?
The calculation for life insurance premiums is simply a reflection of the risks associated with insuring your life. Insurance companies always take into account diagnosed medical conditions, but there are also other issues such as:
Age
Gender
Smoking habits
Other lifestyle elements, including alcohol consumption
Family medical history
There is no doubt that those who maintain a healthy lifestyle will reap the rewards with lower insurance premiums. For example, obesity is a massive problem at the moment, so if you can improve your BMI, this could have a significant impact on your premiums.
While many over 50s life insurance policies do not require a formal medical examination, insurers will still require details of your medical history. So, individual life insurance premiums for those over 50 can vary significantly. Indeed, those with specific medical conditions may need to approach specialist insurers.
Coronavirus and life insurance
If you had life insurance before the pandemic, your insurance should cover you if you die from coronavirus. However, it's always important to check your policy documents. 
The coronavirus pandemic has meant insurers are warier of covering high-risk individuals. The pandemic has increased risks for people with pre-existing medical conditions. Finding insurance has become trickier, but it is still possible.
What about critical illness cover?
Critical illness cover is a type of cover offering protection in the event of a severe illness or injury. You can add it as an extra to your life insurance or as a separate policy. Like with life insurance, you can find critical illness insurance even if you have pre-existing medical conditions. However, your insurance policy may be more expensive and include more exclusions. 
It's also important to note that critical illness cover is not the same as terminal illness cover. Many life insurance policies payout if you die from a terminal illness (with some excluding pre-existing medical conditions). But you can also include additional terminal illness cover that pays out before you die. This means you can take care of things like paying for your funeral, settling debts, and gifting cash to relatives before you die. Remember to consider the inheritance tax implications of any money you give to relatives following a critical illness diagnosis and life insurance payout.
Life expectancy in the UK
As life expectancy is a significant element of any life insurance policy underwriting, we have included UK life expectancy graphs published by the United Nations. These show the gradual improvement in life expectancy from those born in the 1970s and the annual rate of progress. Interestingly, from 2020 to 2100, the improvement in life expectancy appears set to tail off.
UK life expectancy from date of birth and future projections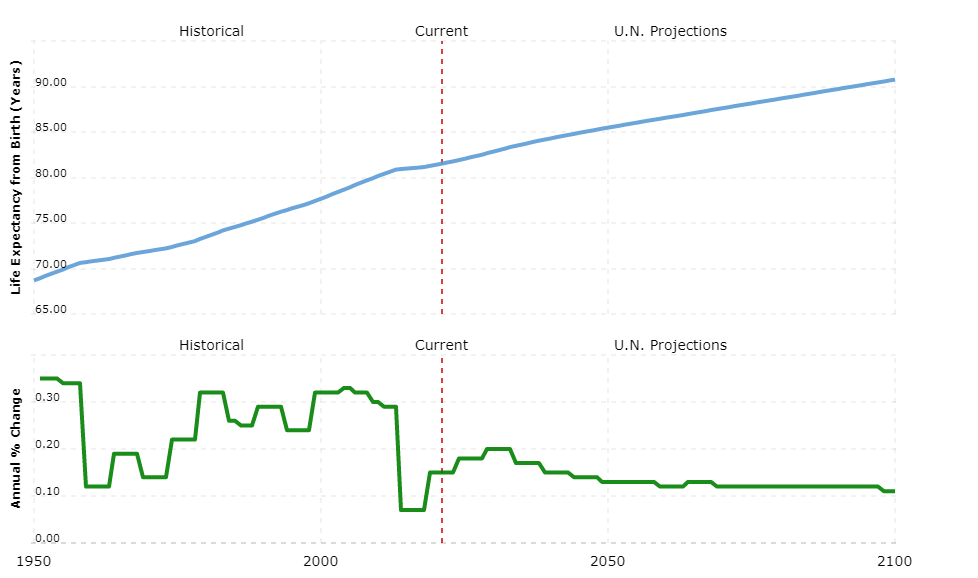 Credit: https://www.macrotrends.net/countries/GBR/united-kingdom/life-expectancy
UK life expectancy from 1950 to 2020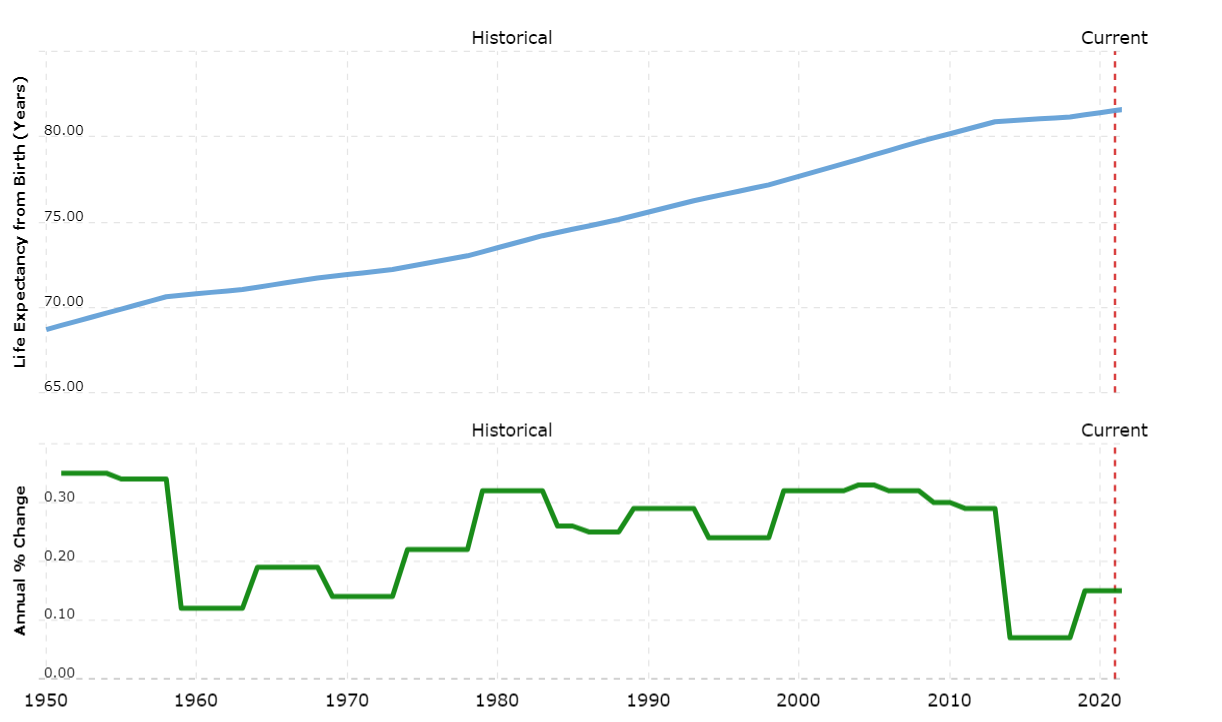 Life insurance companies in the UK
As we saw earlier, the UK life insurance market is the fourth largest in the world.
The leading lights in the UK life insurance market (including over 50s life insurance) include:
Aegon
AIG
Aviva
Guardian
Legal & General
Liverpool Victoria
Royal London
Scottish Widows
Vitality
Zurich
Other life insurance providers specialise in over 50s life insurance plans, such as:
Shepherds Friendly
Assurity
OneFamily
SunLife
Sainsbury's
National Assurance
Post Office
With numerous factors to consider when seeking life insurance, many people use insurance brokers to find the best policy for their situation.
What medical information do you need to provide?
When you're looking for life insurance quotes, insurers will ask about your lifestyle, family history and your general health. They may wish to see your medical records or even undergo a medical exam. If you refuse to provide them this information, you might not receive a quote. By omitting any of the information you may end up having your claims rejected and your health insurance invalidated. The application process may vary so it's always important you check with the insurance company directly.
Getting life insurance with pre-existing medical conditions
The UK life insurance market is vast, the fourth largest in the world according to premiums paid in 2019. Consequently, there are many specialist insurers focusing on the over 50s life insurance market. Premiums will take into account existing medical conditions, family medical traits as well as lifestyle issues. A pre-existing medical condition won't be an obstacle to finding life insurance.
However, your individual circumstances can make premiums higher. It is therefore sensible to take advice from third-party insurance brokers to find the best deal for you. You can save money by shopping around and picking the correct type of policy.