Having a life insurance policy suggests that there are people in your life for whom you care deeply and who you would like to support even after you're gone.
Whether you'd like to leave your grandchildren an inheritance or simply provide financial support for your loved ones, there are products out there designed to meet your needs. 98% of life insurance claims are paid out in the UK, providing additional reassurance for those who opt for a life insurance product. 
Life insurance products become more expensive the older you get. Unfortunately, there is usually less choice available in your later years, too. Therefore, it is a good idea to inform yourself about your options as early as possible so you can make a decision that works for you and your family.
In general, people usually take out one of the following types of life insurance:
Whole life insurance
Whole life insurance, or whole of life insurance, pays out a guaranteed lump sum to your loved ones when you die. However, you may be expected to pay premiums until you die or until you're 90, depending on your policy. As the payment is guaranteed regardless of when death occurs, premiums for whole life insurance tend to be higher. Whole life insurance could work well if you would like to leave your family an inheritance. It can offer you the peace of mind that your loved ones will be cared for after you die, regardless of when this happens. 
Senior life insurance 
Senior life insurance, or over-50s life insurance, is a type of whole life insurance policy. This type of policy provides a fixed payout regardless of when you die. Coverage amounts vary but don't tend to be as high as payouts offered by term life insurance policies. This is partly because life insurance companies take on more risk with this type of policy. 
You will not need a medical exam to qualify, and there are no pre-existing health conditions or health issues that would preclude you from this type of policy. There are also no health questions to answer, although you might be asked whether you are a smoker. 
As a policyholder, you will need to pay your premiums for a set period of time to benefit. Some insurers will expect you to pay your monthly premiums until you die, while with others, there is a cut-off once you turn 90. In addition, there are usually age limits to taking cover, with most life insurance companies refusing to open new policies after you turn 80. If you would like to learn more about life insurance for seniors, you can do so here. 
Term life insurance 
This type of policy pays out if you die within a specific term. For example, you may take out term life insurance for 20 years. You will be covered during this period, but there will be no payout for your family if you die after this period lapses. This could work well if you have dependents, like children and grandchildren, who will likely become financially independent once they reach adulthood. Term life insurance policies have a maximum age of around 90, so they are not appropriate for everybody. 
Funeral cover
This type of cover is designed to pay your funeral expenses which could help your loved ones immensely. The average cost of a UK funeral is around £5000 currently. This price is likely to go up with inflation. Still, many funeral plans offer to 'lock-in' the cost of a funeral at today's prices when you take out a policy.
There are different options available to you if funeral cover is of interest. While some funeral cover pays out the same way as life insurance - a lump sum on your death which can be used to pay funeral costs - others are payment plans where you pay for your funeral in instalments. The latter will only 'pay out' if you have paid all your instalments before your death. If you do not, the remaining cost of your funeral may need to be settled by your loved ones. 
While this type of cover is sometimes called burial insurance and works more like a payment plan than an insurance product. This will change slightly in 2022 when the Financial Conduct Authority (FCA) will start regulating pre-paid funeral products. Providers will then be expected to offer a funeral even if you die before you've paid off your plan. 
Costs for this type of cover vary, but you can expect to pay around £3500, on average. Funeral directors offer many options for your burial that are worth exploring before deciding how much you wish to spend. The more expensive the package, the more elaborate the service provided by the funeral director. 
If you are interested in a pre-paid funeral, we have a guide on how these plans work and what is covered here.
What are the tax implications of taking out life insurance?
Your loved ones won't have to pay income tax or capital gains tax on a life insurance payout. However, depending on the value of your estate, they may be liable for inheritance tax, which is currently set at 40%.
If your estate is valued below £325,000, no inheritance tax will be payable. However, for anything above this threshold, your beneficiaries will need to pay 40% tax.
One way to get around this is by writing your life insurance into a trust, where the money goes directly to your beneficiaries and is not considered part of your estate. In addition, some people take out life insurance to help loved ones cover their inheritance tax bill.
If you would like to learn more about ways to use your life insurance to pay your inheritance tax, we have a detailed guide looking into the pros and cons of this choice here.
Do you need life insurance cover?
Some people find that they have over-insured themselves and are paying premiums for a policy that isn't truly necessary. This can result in wasted money and no tangible benefits. In a previous life insurance guide, we explored whether everyone needs life insurance in detail.
The short answer is no.
Not everyone will benefit from a life insurance product, especially when it comes to older people. In the UK, people over 50 are more likely than younger people to own their homes outright. This does away with the need for mortgage protection. Also, older people are likely to have grown children that are already financially independent.
If you have no outstanding debts or dependents, then life insurance might not make sense for you. This is especially true if you are struggling financially anyway. For example, 50-year-olds in the UK pay around £36 per month on life insurance premiums, which could be better spent elsewhere if a policy isn't essential.
Before taking out a policy, you should consider your personal circumstances and financial situation carefully and make decisions on that basis. For some, speaking to an independent financial advisor might be a good idea too.
Life insurance options in later life
You may be surprised to hear that life insurance options are available to people as old as 90. While premiums will go up and options will be more limited in your later years, there are still insurers that will issue life insurance to people approaching 90. 
Life insurance for over 50s
Your 50s are a great time to explore life insurance options. You will still have many affordable plans available to you, whether you choose to go for whole of life or term life insurance.
The best life insurance policy for you will take your financial situation into account and provide the life insurance coverage you need to ensure your loved ones are looked after. 
On average, 50-year-olds pay about £37 per month for life insurance in the UK, depending on their cover. A search for insurance quotes through Compare the Market for a fictitious 51-year-old female in good health yielded results for monthly premiums costing around £30, offering £100,000 payouts on death within 30 years.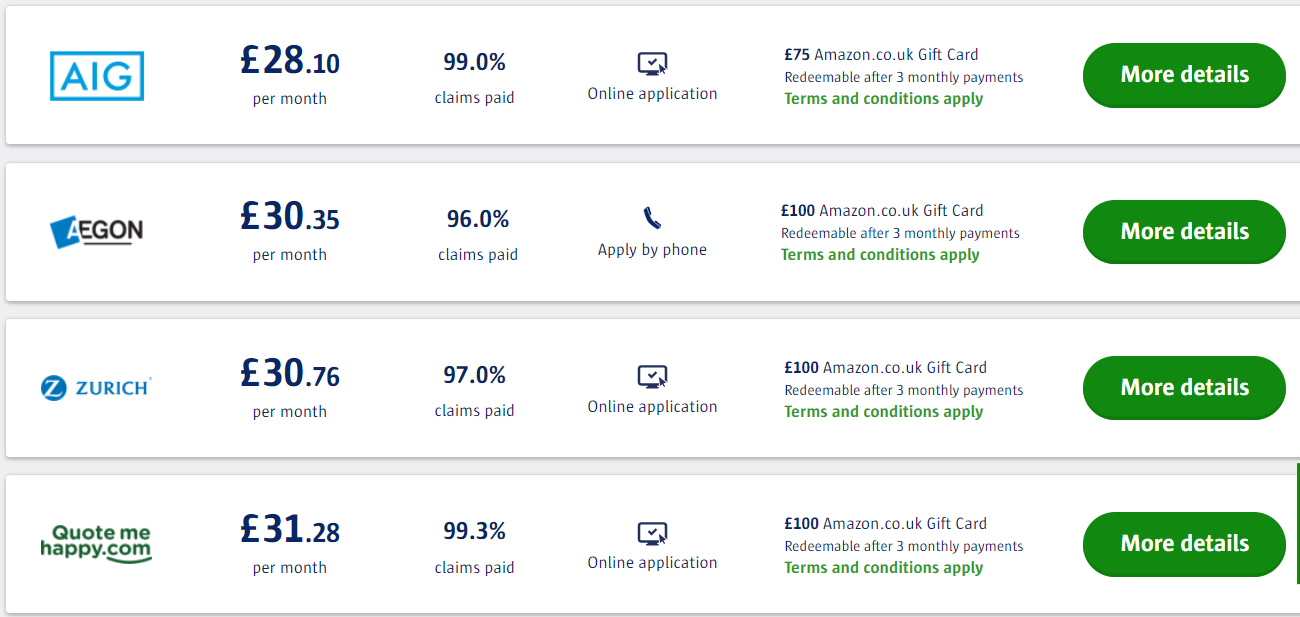 Once you turn 50, you become eligible for over 50s life insurance plans, which start at as low as £10 per month. These plans often do not require you to provide your medical history and offer guaranteed acceptance in most cases.
This type of cover works well if you wish to leave your loved ones a smaller lump sum to help them with funeral costs and bills. However, it is worth noting that if you're in good health and expect to live for many more years, the premiums you pay might end up being higher than the lump sum your family receives. For example, the Post Office's life insurance calculator suggests that if you start paying a premium of £10 per month at age 50, you can expect a payout of roughly £2600 on your death.
Life insurance for over 60s
While policies are available to those over 60, options become more limited, and terms become shorter. For example, based on our research, a 61-year-old female who wishes to take out a policy lasting 30 years will struggle via mainstream sources. Compare the Market only allowed us to input a 29-year term, as the insurers they work with do not offer mainstream life insurance for those over 90.

All other things being equal, our search this time yielded only one result for a policy, costing more than £100 per month and offering a payout of £100,000 if the insured person dies within 29 years. Lowering the term to 20 years yielded more results and premiums of around £50. However, there was still far less choice than the previous example.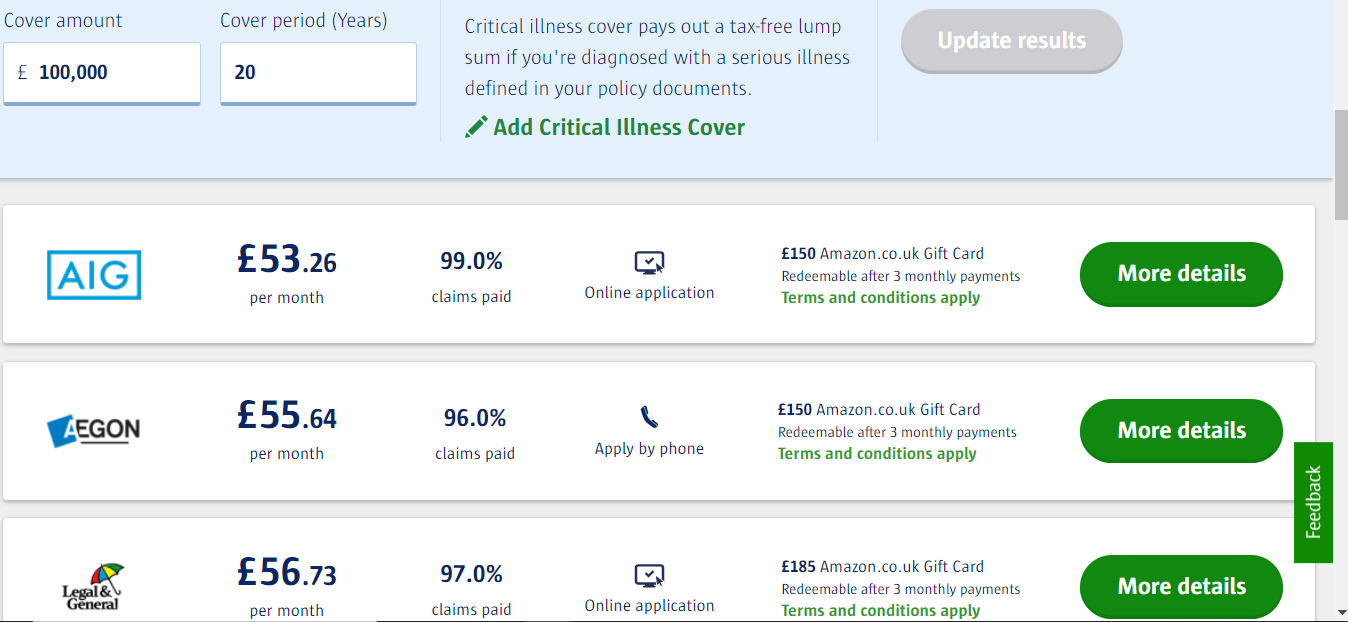 Insurance is more expensive and harder to come by in this age bracket. However, affordable options are still available to those seeking cover.
Life insurance for over 70s
Life insurance options through mainstream providers become much more expensive and limited once you turn 70. Our fictitious female attempting to take out 20-year term insurance with a £100,000 payout at age 70 through Compare the Market found one policy. The premium was set at £173 per month. This type of cost would be prohibitive for many pensioners. By this point, specialist over 50s life insurance and funeral cover become more affordable options.

Life insurance for over 80s
Your 80s are the last decade in which you can take out some form of life insurance, as many insurers refuse to offer insurance after the age of 90. So your 80s are a crucial decade in which to decide whether you would like some form of cover.
The Post Office, for example, only accepts over 50s life insurance applications from people up to the age of 80. After this, you will need to look for another provider. Also, premiums become much higher. According to their calculator, the maximum cash value you can receive is about £3200 with a £100 per month premium. So if you expect to live past 83, this type of insurance makes little sense.
Options in your late 80s and 90s are virtually non-existent, apart from some funeral cover policies that lock in current funeral prices and usually ask you to pay the entire policy cost in one go.
What is the best age to get life insurance?
When it comes to life insurance, starting earlier will give you the most affordable and varied options. However, the best time to take out life insurance depends on what your goals are. While options become more limited in later life, there are still ways to provide your loved ones with a financial payout after you die. For example, if a smaller lump sum to cover some funeral costs is all you're after, you could find sufficient cover even in your 80s.
While there isn't a perfect age to take out life insurance, it is best to do your research as early as possible so you can make informed plans for your future.