While the UK offers universal healthcare for all its residents through the National Health Service (NHS), a sizeable portion of the population opts to purchase private health insurance plans. Approximately 13% of the UK population have private medical insurance, and more than 50% of people say they would consider paying for private care if necessary.
If you are considering private health care for the first time, you are not alone. Record NHS waiting lists have driven many Brits to private options over the last year, with some 5.6 million awaiting NHS treatment. While private healthcare can be expensive without insurance, there are many options available to older people looking to take out a policy for the first time. Monthly premiums do not have to be prohibitive. 
How much does private health insurance cost in the UK?
The exact cost of your premium will depend on several factors, including the level of medical cover you require. On average, people in the UK pay about £1500 a year for private health insurance. This may seem expensive at first, but your premium will depend on your:
Age group 
Postcode
Lifestyle choices
Health status
Medical history 
How many individuals are covered
The health insurance coverage required 
While your overall premium will go up if you add your partner to your policy, it is often cheaper to take out a joint health insurance policy. It also reduces the administrative burden of having to maintain and renew two separate policies.
What does health insurance cover in the UK?
When taking out cover, you need to think about your reasons for purchasing a policy so you can make the best investment for yourself. Some private healthcare options and benefits can be added to your policy at an additional cost. It is up to you to decide whether these make sense for you.
Most policies will cover inpatient treatment in private hospitals, consultations, and outpatient care, including scans and hospital appointments. However, it is essential to review the terms of your policy carefully as the extent of outpatient care covered can vary. Some cheaper policies do not cover outpatient visits at all.
You could add optional extras to your policy as well. For instance, some insurers offer additional cancer care that would cover you from diagnosis through treatment. This will not usually be covered under basic plans. There are also options including mental health cover, dental cover, and optical cover that could be added as part of your policy.
These extras will make your policy more expensive, but they could be the right choice for you if you want the most comprehensive care available to you.
Most insurers will not cover chronic and pre-existing medical conditions. Emergencies are also not covered via health insurance as they are handled under the NHS.
Do I need private health insurance?
You don't necessarily need private health insurance. Many still view it as an extra expense in a nation where universal healthcare exists for everyone. Many feel the medical care available through the NHS meets their health needs sufficiently. 
However, there are benefits to taking out a policy. You could skip the queue and receive referrals, diagnoses, and consultations quicker than those relying on the NHS. You could have access to treatments not available on the NHS as well. You could have access to private rooms when you stay overnight. It gives you the peace of mind that if you were to fall seriously ill, you would have shorter waiting periods and access to varied medical treatment. 
Of course, private health insurance isn't the best option for everyone. Besides the cost of the premiums, there are several factors to consider before taking out a policy. For example, insurance companies usually work with specific health care providers. As such, if you live in a rural area, you may find that you will have to travel long distances to visit a private hospital. Furthermore, chronic illnesses like diabetes and pre-existing conditions are usually not covered.
We have several guides to help you navigate the complexities of insurance. If you have a pre-existing condition and are looking at life insurance and health insurance, you might find our guide to getting life insurance with a pre-existing condition useful.
Your health insurance needs and options will change as you age. Older people can benefit from insurance policies explicitly designed to meet their needs.
Health insurance for over 50s
While age is a leading factor in the price of your policy, many niche insurance providers work to provide tailored deals for older people.
Vitality, for instance, specialises in health insurance with a popular awards programme as part of their offer. They offer basic cover from approximately £40 per month for a healthy, 51-year-old female. More expensive options cost around £65 per month but come with full outpatient cover.
As you get older, you should look out for outpatient cover options when taking out health insurance. Many insurers will keep this type of cover basic to ensure premium costs remain low.
Outpatient cover could be vital if you are interested in quicker diagnoses and consultations that do not involve hospital stays. However, if you're happy to pay for outpatient treatment yourself or get it on the NHS, you may find that basic cover is sufficient for your needs while keeping healthcare costs as low as possible.
Health insurance for over 60s
During your 60s, health insurance options will become more expensive. However, there will still be products available to you, and many insurers tailor their offers for older people.
As you get older, basic insurance options will usually not cover outpatient visits. Therefore, you will need to pay more to protect yourself if this is important to you.
Many insurance policies for those aged over 60 have an upper age limit of around 70. Ensure you check the terms of your policy before you purchase it. If there is an upper age limit, you will need to switch to a different policy when you hit the maximum age.
We created a fictitious 61-year-old female to see what our options would be through Compare The Market. Treatment-only cover is still relatively cheap and priced at around £43 per month.

However, we drove our quote up to £110 per month for an individual policy by adding full outpatient cover.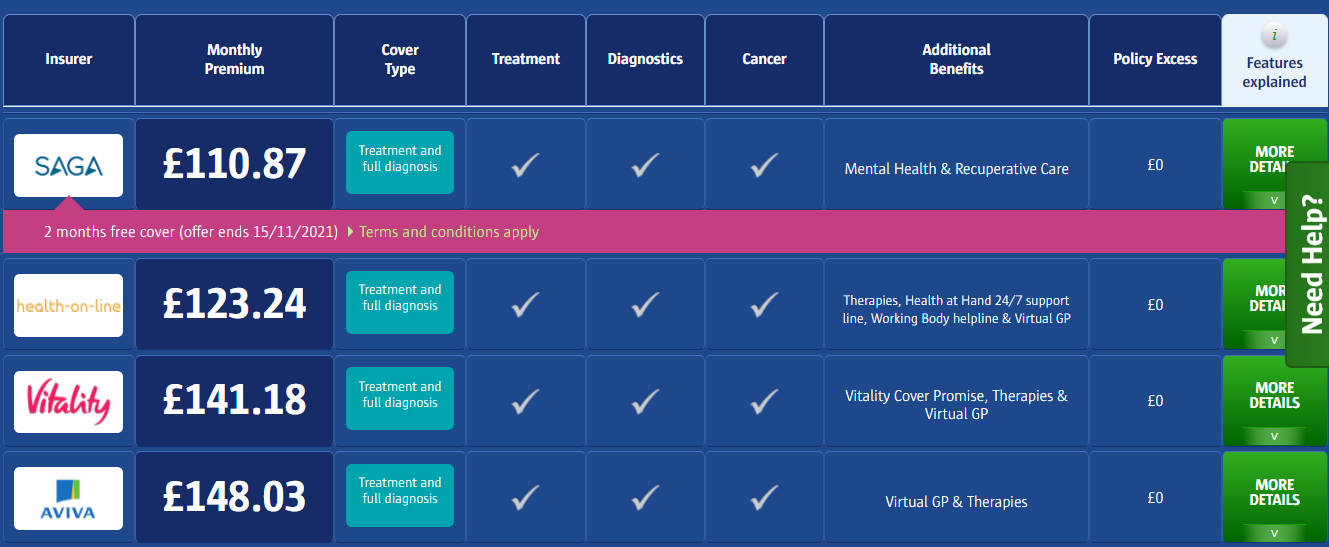 We also added a 61-year-old male spouse to our cover to see how it would change. Both were in good health and non-smokers. They were quoted policies ranging from £184 per month and £300 per month for full cover, including outpatient visits.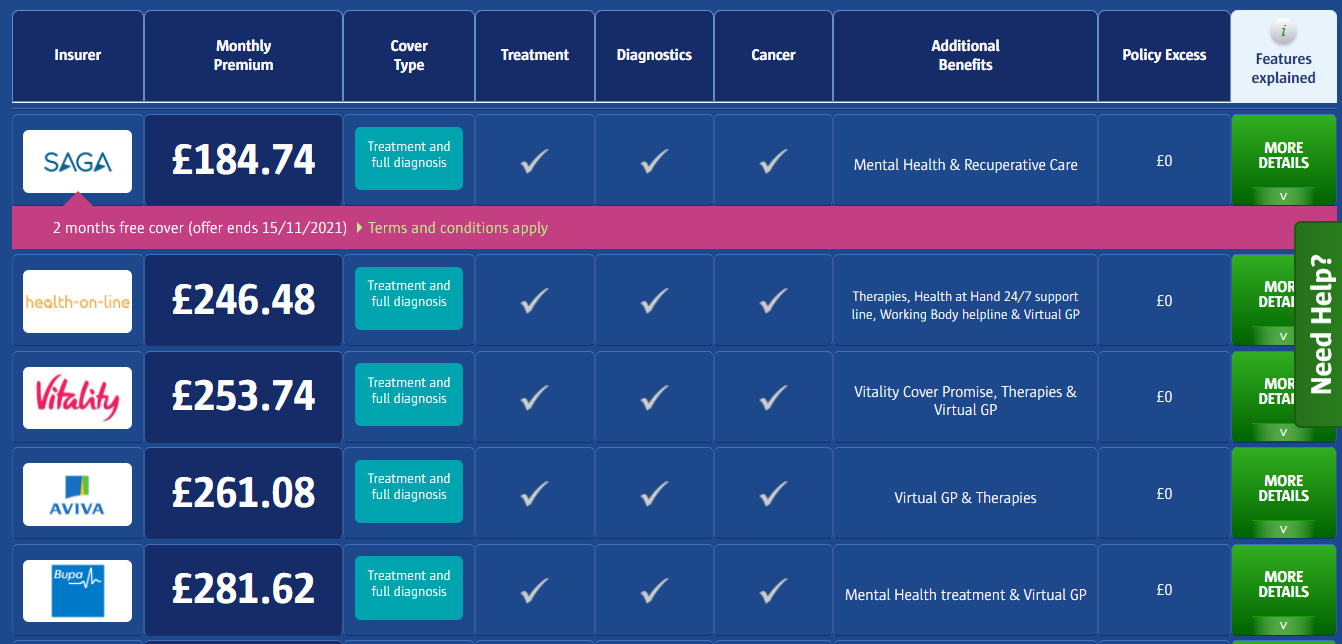 Still, a more basic option was priced at a relatively modest £57 per month, allowing the couple a treatment-only policy with no outpatient options.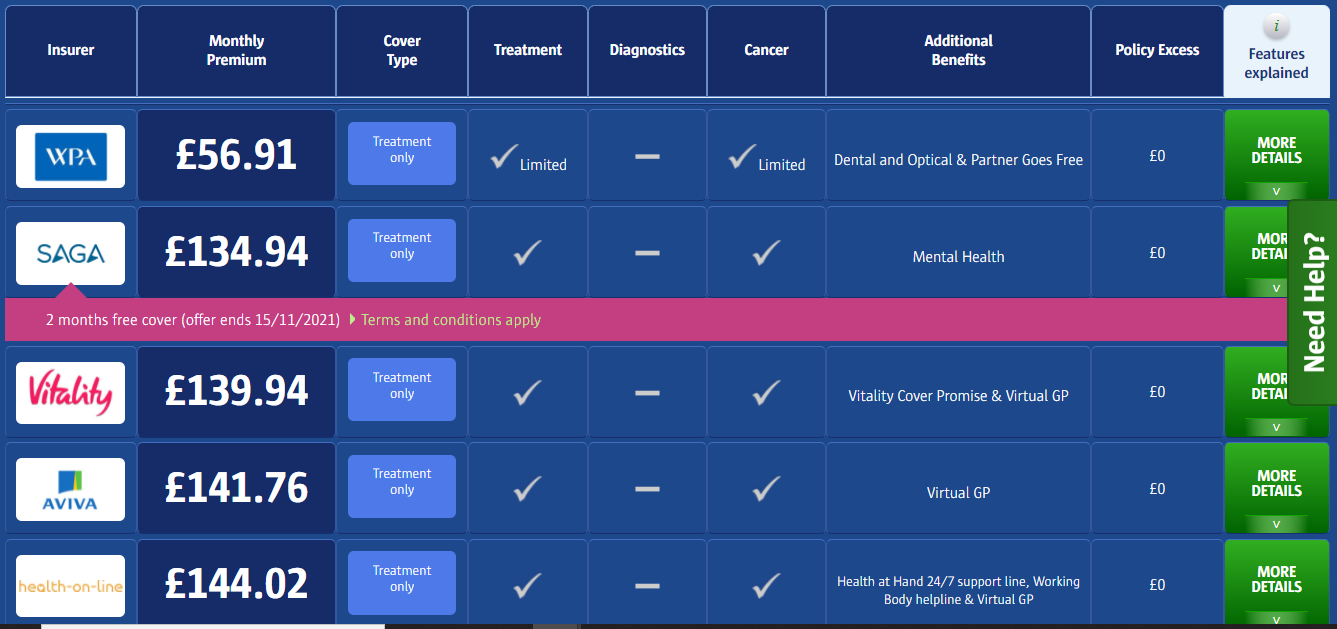 This means that even in your 60s, you will still be able to find a relatively affordable insurance policy to cover you and your partner.
Health insurance for over 70s
In your 70s, health insurance becomes more difficult to obtain and more expensive. We aged our fictitious couple from the previous example by another 10 years. Everything else stayed the same.
The most basic policy now cost £190 per month for both – three times what it would have cost to cover them in their 60s.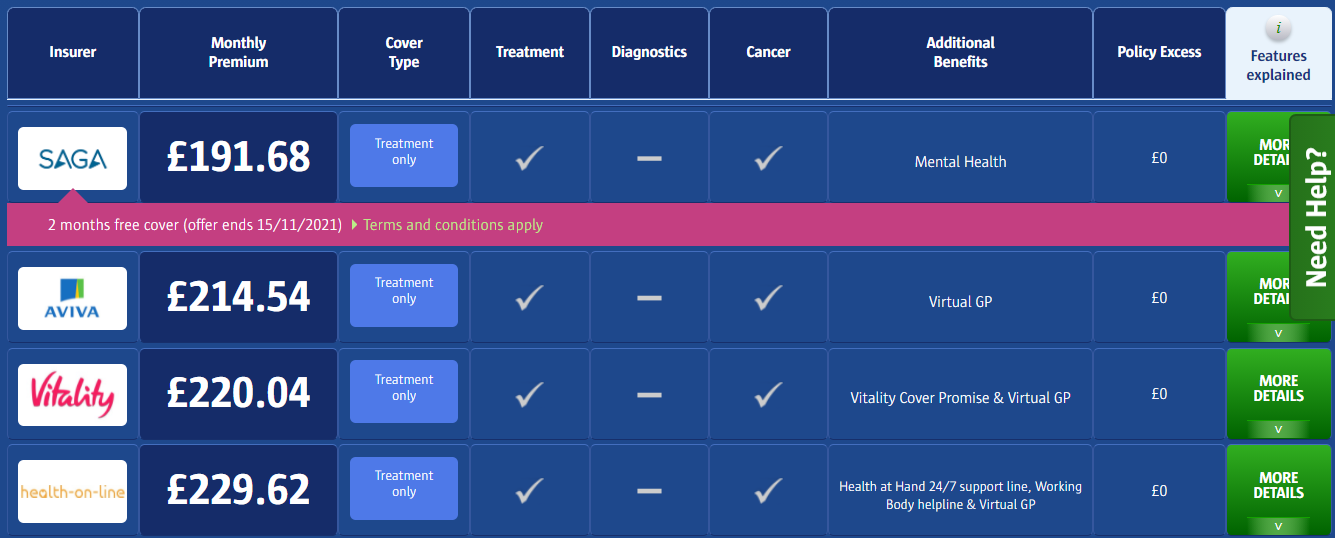 However, if they chose full outpatient cover and a more comprehensive policy, the cheapest policy would cost them more than £260 per month for both.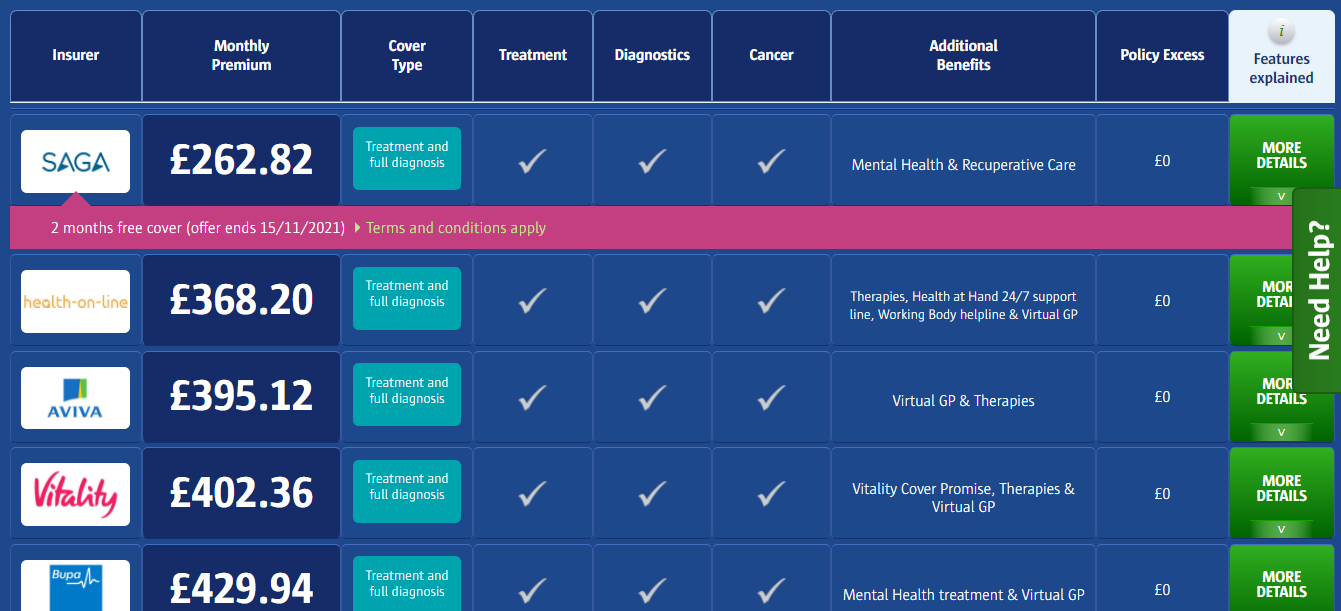 What this shows is that as you reach your 70s, being mindful of the type of cover you select becomes incredibly important. Keeping costs affordable while remaining covered can feel like an impossible balancing act. However, there are ways to get what you need and stay within your budget.
For instance, many insurers offer what is known as 'the six-week rule'. So if you're happy to wait for a few weeks for an appointment or treatment on the NHS, you could qualify for a cheaper premium. However, your insurer would only pay out if you couldn't get treatment on the NHS within the specified six-week period.
Other ways to lower your premium include:
Being mindful about the types of conditions you choose to treat privately
Avoiding extras you might not need, such as mental health cover or dental cover
Staying as healthy as possible in your older age by not smoking and staying active
Health insurance for over 80s
Options for over 80s are limited and expensive.
To give you an idea of what premiums look like for an 81-year-old female, we used our fictitious woman from the previous examples. We asked for a mid-range cover, including treatment and some outpatient options. Three providers generated quotes – SAGA, Aviva, and Bupa. SAGA was the cheapest at around £175 per month for one person, while the most expensive was £205 per month.

The cheapest cover, including only treatment, was priced at approximately £149 for one person. Prices will likely go up if you want to insure a partner or family member through the same policy.

While this may seem expensive for an individual policy, it is still not too far off the average UK cover. However, this changes if we add our 81-year-old, non-smoking, male spouse to the cover for a joint policy.
The most basic policy, involving just treatment, would then cost around £248 per month.

If you're interested in outpatient cover as well, you could expect to pay upwards of £290 per month.

At this point, depending on your needs, an insurance policy could become prohibitive and difficult to arrange, especially for retirees. As a result, you may need to compromise and choose to cover only certain things and opt for a treatment-only insurance policy.
Health Insurance for Older People
While costs rise as you age, you should take comfort in the fact that there are options available to you if you want to benefit from private healthcare. Depending on your budget, this may involve compromising and going for a basic cover. However, there are still a variety of policies available to people in their older age, and many niche insurers specialise in policies for seniors.