Even though the UK government has continually promised an annual increase in new build properties, many remain sceptical. Consequently, UK property prices have remained relatively robust throughout recent financial challenges. When looking at a new build home, there are many specific issues to consider.
Cost of homes in the UK
Before analysing the pros and cons of buying a new build home, it is worth reminding ourselves about the cost of homes in the UK. As you can see from the graph below, the average house price in the UK saw a sharp downturn following the 2007/8 economic collapse. However, it did not take long for the uptrend to re-emerge. As of August 2020, the average UK home costs £239,000 - a record high.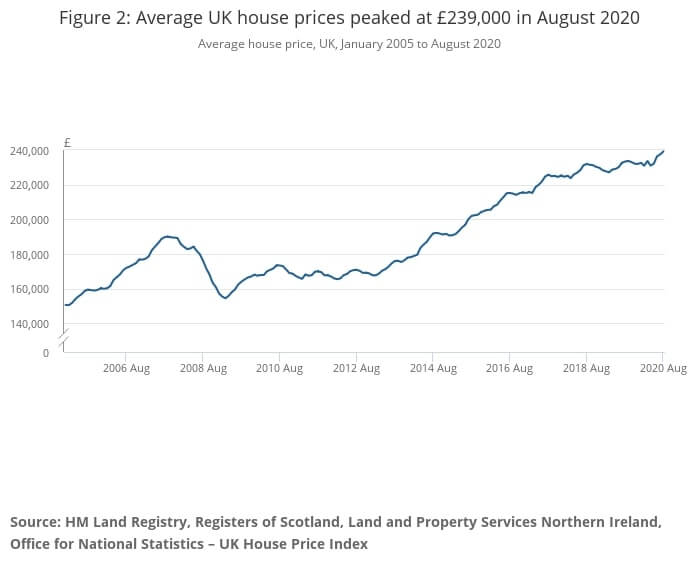 Image Source/Credit: https://www.ons.gov.uk/economy/inflationandpriceindices/bulletins/housepriceindex/august2020
As you can see from the graph below, in recent times, house prices in England have outperformed those in Scotland, Wales and Northern Ireland.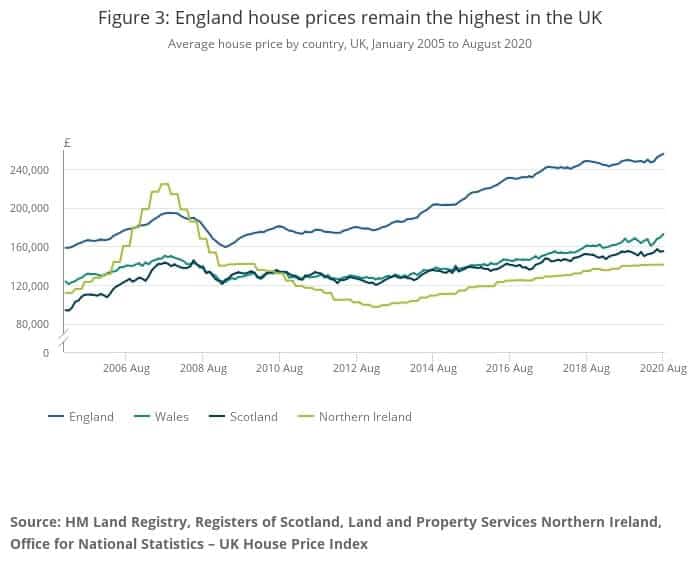 Image Source/Credit: https://www.ons.gov.uk/economy/inflationandpriceindices/bulletins/housepriceindex/august2020
While nothing is guaranteed, there has been a strong uptrend in UK house prices in the long term. However, the situation regarding new build properties is different, and some factors can sometimes dampen short-term house price appreciation.
Is it worth buying a new build?
The UK new-build market has always been relatively healthy, due mainly to a lack of new build properties and growing demand. Many people will identify with the positive aspects of buying a new build property, but there are downsides. Let's look at the pros and cons of buying a new build property.
Pros
Some of the main benefits of buying a new build property include:
Ability to influence decor if purchased off-plan
Many developers will offer financial/product incentives
Lower bills with new homes built under strict eco-friendly/energy efficiency regulations
No chain - reducing uncertainty and duration of the purchase process
Warranties - most new build properties come with a ten-year National House Building Council warranty
Potential to negotiate a reduced price, depending on the housing market and development popularity
Access to cheaper finance via the Help to Buy Scheme
Everything is new!
The idea of being the first to live in a new property and the blank canvas this offers can be a strong attraction.
Cons
Unfortunately, there is always a flip side and numerous issues to be aware of. Some of the downsides to acquiring a new property include:
Lack of space - new developments tend to cram as many relatively small rooms into a property as possible
Often sold as leasehold, not freehold - leading to annual payments/restrictive covenants
Snagging - this is an inevitable part of a new build development. In a perfect world, the developer would fix all snags immediately
With off-plan purchases, there can be delays, and there is always a risk the property will not be finished
High LTV mortgages can be challenging to get with the "new build premium"
Be aware of developers trying to upsell expensive equipment such as washing machines and flooring.
Zero property valuations - while not common, some new developments have proven troublesome to finance
It's easy to get caught up in the excitement of acquiring a brand-new property and making it your forever home. Thankfully, most buyers enter negotiations with their eyes wide open, fully aware of the pros and cons. 
As you can see above, there are still many benefits to acquiring a new property. If the developer is struggling or property sales on new developments are slow, there may be scope to negotiate significant discounts. If you don't ask, you won't get!
Is it better to buy a new home or an older house?
While there are many benefits to acquiring a new build home, the best comparison is probably buying a brand-new car. Before you buy the vehicle, it is brand-new and therefore attracts a premium against a second-hand counterpart. However, the price depreciates significantly once you drive the car out of the garage. 
A report by the Land Registry in 2019 concluded the average new-build premium to be a staggering 29% compared to existing properties. Consequently, it is crucial to negotiate the best price possible when looking at a new build property. Although there are many other factors to consider, a brand-new property could deteriorate in value in the short term. However, in reality, the demand for high-quality developments tends to remain healthy, supporting selling prices to a certain extent.
Reasons for buying a new build home
There are various reasons why homeowners over 50 years of age might be looking toward a new build property. These include:
Relationship breakups
Family leaving the nest
Move from two-level to one-level property
Reduced mortgage
Releasing equity
Moving closer to family
Pay-off mortgage
Reduced running/maintenance costs
Move to a more sedate lifestyle
Many "baby boomers" have seen a significant increase in the value of their long-term homes. As a result, the opportunity to downsize, release equity and use this to fund future expenditure has been a strong attraction for many. 
Recent historic low interest rates have been another prominent factor for those looking to acquire new build properties.
The dangers of leasehold new build homes
Recently, there has been some controversy about new developments and the use of leasehold arrangements as opposed to freehold. As the freeholder, this has allowed numerous developers to create long-term income streams relating to costs such as:
Service charges
Maintenance charges
Ground rent
Historically, leasehold arrangements tended to mostly cover flats, where there were significant shared areas. However, due to the effect of compounded annual interest, what may start as a relatively small yearly payment, can increase significantly over the years. Indeed, there have been occasions where the ongoing increase in leasehold payments has reduced demand for property, thereby impacting sale prices.
Should you buy a new build home?
There are several factors to consider when looking to acquire a new build property. While for many an ultimately rewarding experience, it is vital to be aware of the pros and cons before starting this journey. The issue of leasehold properties and annual charges are a recent introduction to the mix. The UK government are currently looking at ways to curtail what many see as excessive charges, which may take some time. That said, the opportunity to buy a new build property, place your stamp upon the decor and make it your forever home is an enormous attraction to many.