In theory, there is no upper age limit for getting a mortgage, although different lenders will have specific lending criteria. Consequently, it is essential to take professional financial advice to find the right mortgage deal for your situation. There are many factors to consider, some of which are obvious and others perhaps not so.
Many options are available, whether looking for a traditional mortgage, remortgage, lifetime mortgage, buy-to-let mortgage or a home reversion scheme. You may even be over 50 and be a first-time buyer!
Do over 50s need specialist mortgage lenders?
The simple answer is no. As you can see from the graph below, life expectancy has significantly increased over the years. Males born in 2018 are expected to live 79.5 years, with females expected to live 83.1 years. This is a considerable increase from 1900 when the respective figures were 43.7 and 47.5. There has even been a marked rise from as recent as the 1980s. So what does this mean?
Longer life expectancy means that most of us will need to work longer to provide income for living expenses. The traditional retirement age of anywhere between 60 and 65 is a distant thought for many people. This has led to a massive change in the mortgage industry. There is now a greater appreciation of the income and the wealth of the over 50s.
Life expectancy at birth 1941 to 2018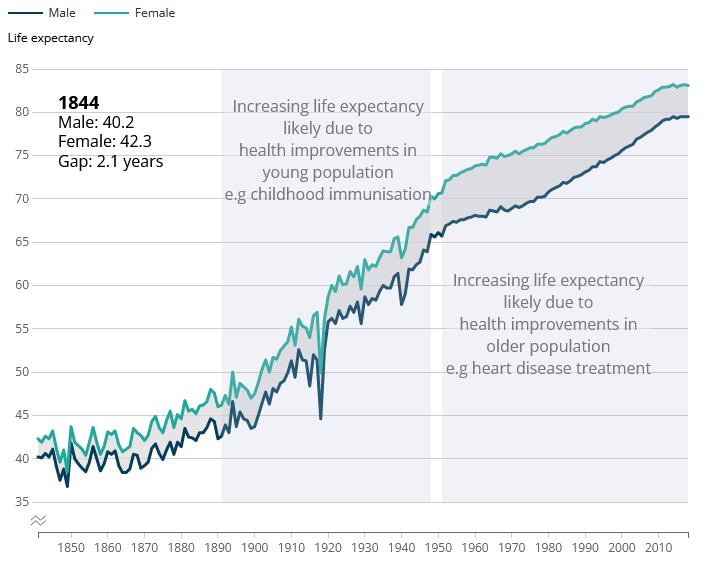 In recent times we have seen the likes of Halifax, Santander, Barclays, Nationwide Building Society and other well-known companies providing more mortgage services for over 50s. In addition, many specialist brokers offer mortgage funds for those in their 50s, 60s, 70s, 80s and even 90s. So, in reality, there is no age limit on mortgage lending; it will come down to income and assets available.
Are over 50s mortgage applicants treated differently?
Again, the simple answer is no. If you put yourself in the shoes of a mortgage lender, whether or not you offer mortgage funding to a client depends on the amount required and the affordability factor. So, applying for mortgage lending is the same for any age group, although the type of income used may vary. It is illegal to discriminate against individuals based on age, so any decision will be purely based on financials.
Income considerations
Lenders will consider your income if you're getting a mortgage in your 20s or 50s. You want to make sure you can afford to make mortgage repayments along with your usual living expenses. Your income could be lower as you're getting close to retirement or have retired already. Most mortgage lenders perform a soft credit score check as part of the process. However, mortgage providers will consider all of your income when you make an application, including:
Employment income
Self-employment income
Private pension income
State pension income
Investment income
Third-party income (such as trust income)
When applying for mortgage funding, the lender will typically ask for valuation statements and evidence of income dated within the last 18 months. They will also consider future tax-free lump sum payments from your pension scheme and other one-off sources of revenue. In short, they are interested in knowing you can make your mortgage payments.
Different types of mortgage lending for over 50s
While many look at the challenges over 50s face in the mortgage market, the benefits are often overlooked. For example, many of those applying for over 50s mortgage lending may be looking to downsize. Consequently, there is every chance they could have significant equity in their home to release. You should also remember that you may require a smaller mortgage, especially if you're considering downsizing. A dip in your income in older age does not end your dreams of getting a mortgage.
We will now look at the different types of mortgage lending for over 50s and the pros and cons.
Standard mortgage
As we touched on above, most lenders in the UK are now more welcoming of those over 50 years of age applying for new mortgage finance. While most traditional mortgages are capital repayment (capital and interest repayments), interest-only mortgages might be available if there is some form of collateral. Therefore, you may be able to use investment assets or future pension fund payments to pay down the capital at the end of the mortgage term. However, most over 50s will still be looking towards capital repayment mortgages.
But a standard mortgage is not the only available option for those over 50. You could find other options better suited for your specific financial situation.
Remortgage
If you don't find a standard mortgage suitable or you're having trouble getting it, you could look into remortgaging as an option. Many over 50s may have significant equity in their property, and the required mortgage funding may be relatively low. Unfortunately, this has precluded many homeowners from remortgaging their properties to avoid a lender's standard variable rate, locking into significantly lower mortgage rates and saving money. 
Equity release/Home reversion scheme
Traditionally, a remortgage 
was the best way to release equity from your property. However, this option is not always available to those over 50 due to potential income constraints. Home reversion schemes are a form of equity release explicitly targeted at those over 50. While they have proven helpful for many people, they have attracted their fair share of controversy.
Eligibility for a home reversion scheme is simple. You are simply selling a share of your property to a third-party investor. The issue is that you will only receive between 20% and 60% of the property's market value. So, for example, a 50% share of a £200,000 property would be worth £100,000 based on the market price. So a home reversion scheme would only pay between £20,000 and £60,000 for a 50% share. So what are the benefits?
There are no monthly payments with a home reversion scheme because you have sold part of your property. You will be allowed to live in the property rent-free until the last homeowner dies or moves into long-term care. At this point, the property would be sold, and the proceeds split on a per-share basis. If you lived into your 90s, you could potentially live in the property rent-free for more than 40 years. During this time, investment funds from the home reversion company would be tied up.
Lifetime mortgage
A lifetime mortgage is another alternative for many over 50s homeowners looking to release an element of equity from their property. This type of equity release is rather popular due to its structure.
Funds are borrowed against the property on what is described as an open-ended repayment basis. This means there is no set mortgage term for the loan. Upon the death of the final homeowner or move into full-time care, the property is sold, the mortgage repaid, and the balance passed to the homeowner/their estate.
While interest will be charged, there will be no monthly repayments because it is added to the lifetime mortgage balance, attracting a degree of interest on interest. Due to the rollup of interest payments, the LTV range on a lifetime mortgage tends to be between 45% and 58% of the property's value. Compared to LTV ratios of up to 80% on traditional mortgages, this seems relatively low but reflects the accumulated interest and investment risk. In effect, this is a degree of headroom, meaning negative equity is unlikely to be a problem.
Speaking of negative equity, new regulations have deemed that if you take out a lifetime mortgage, you have a guarantee from the mortgage company that if the arrangement moves into negative equity, you would not be pursued for additional funds. In addition, the Financial Conduct Authority (FCA) is now heavily involved in regulating lifetime mortgage providers.
Over 50s mortgages
Some mortgage lenders have created specific mortgage offerings for older borrowers. These can offer options like retirement interest-only mortgages (RIO mortgages). If you were to take out a mortgage in later life, you would likely need to reduce the duration to reflect your age. You would need to discuss this with your mortgage lender, as you may be able to add collateral to the arrangement. The finances of under 50s tend to be very different from the finances and assets available to those over 50. Many over 50s have benefited from the property booms of the 70s, 80s and earlier.
Getting a mortgage after 50
While those over 50 looking to secure mortgage finance may still be able to apply for a traditional mortgage and remortgage arrangements. The conventional route can work well if your income and outgoings are stable. Consequently, home reversion schemes and lifetime mortgages offer a helpful alternative. Taking mortgage advice and understanding the structure and liabilities created with different mortgage products is vital. 
It is fair to say that mortgages are more readily available for over 50s today than they were 20 years ago or even ten years ago. However, finding the best mortgage deal for your situation is not always easy!