PayPal Honey is making waves in the online shopping world with its suite of tools that help members save money and earn rewards. 
PayPal acquired the browser extension, formerly known simply as Honey, that automatically applies coupons to online stores while shopping online in 2019. Recently, popular Honey features previously only available in the US have come to the UK. 
For example, PayPal Honey offers Honey Gold, a rewards program that allows members to earn redeemable points and cash back or gift cards. 
Best of all, PayPal Honey is completely free to use. After downloading the Chrome extension, you log in with your email or through your PayPal, Google, Facebook, or Apple account, and the tool will start working in the background. 
The extension looks like an easy and free way to make a saving when shopping online. A free app is also available for your phone if you prefer to shop on your mobile. 
Let's look at how PayPal Honey works and all the perks you can expect from this trending tool. 
*Starling Bank will not charge you withdrawal or currency conversion fees, but some ATMs may charge a fee.
**On top of this amount, some ATMs may charge a fee
How does the PayPal Honey extension work? 
Shopping online can be a budgeting nightmare, with countless deals and coupon codes floating around. That's where the Honey browser extension comes in. 
By adding Honey to your browser, you'll unlock access to tons of promo codes and automatically apply them at checkout. 
First, add the PayPal Honey extension to your browser. You can do this through the joinhoney.com website or your preferred web browser's app marketplace. It's available on Google Chrome, Safari, Edge, Opera, and Firefox. 
You will need to create an account, but you don't actually need PayPal to do so. Although PayPal honey encourages you to pay with PayPal when you make purchases, you can also sign up with your email and pay with a credit card instead. 
Once you've enabled the free browser extension, it'll get to work in the background, looking for discount codes and offering rewards with participating retailers. 
But how does it work? We gave it a go and found the experience seamless. 
PayPal Honey: Here's what happened when we tried creating a mock John Lewis basket 
We tried this new extension out with a mock John Lewis basket, where we added some towels, a bin, and a bedsheet. The order total came to an eyewatering £222. 

We went through the checkout process, and right before the payment step, Honey kicked in. The browser extension presented a pop-up message saying it found ten discount codes! This sounded promising.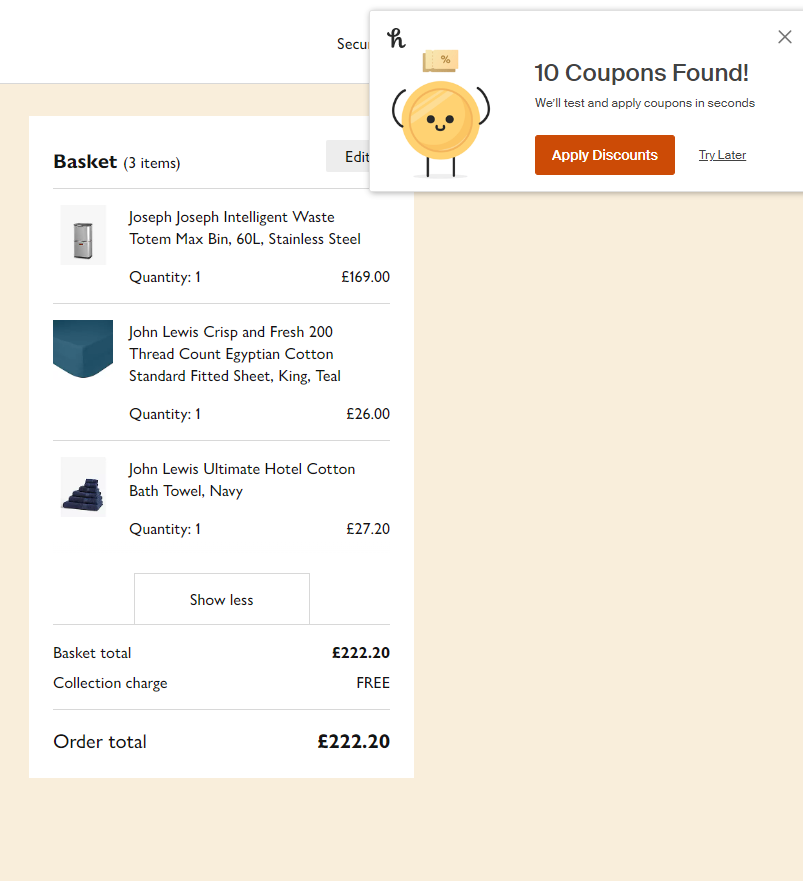 Another cool part of the experience was how Honey used each available coupon and showed us the result in real time. Rather than getting a list of codes to fill out yourself, the shopping tool fills in the coupons automatically.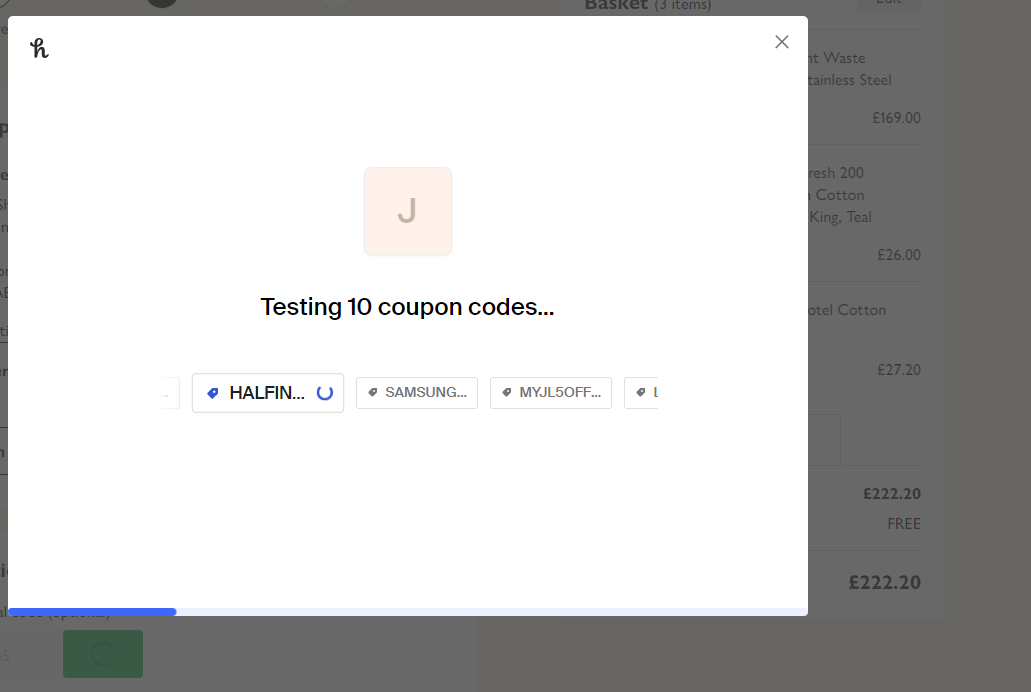 Disappointingly, however, none of the codes worked on this occasion. The total still came out to £222. Good thing this was a mock basket, and we didn't have to pay for it! 
Still, it was a positive experience. If you love a bargain, the extension saves you hours of hunting for discount codes and does all the leg work for you. 
Even better, it allows you to "follow" the retailer to get alerts when price drops or Honey codes are available for that shop.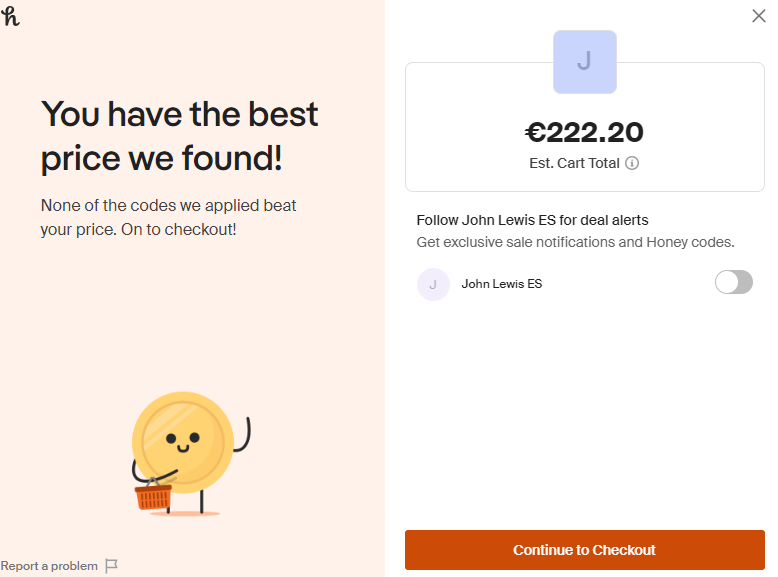 What are the Honey PayPal Gold Rewards? 
Available on over 5,500 websites, the program allows customers to earn "Gold" on eligible purchases by simply clicking a button that pops up whenever Gold is available. 
The "Gold" earned is usually a percentage of the total bill, ranging from 1% to around 10%. Sometimes, a set amount of Gold is earned instead. 
You can then redeem this Gold for gift cards from popular retailers such as Asda and Domino's. And with the program's boosted rewards feature, certain partner retailers offer even higher redemption rates for even more considerable savings. 
Once you collect 1,200 Gold points, you can redeem a £10 gift card for a store or grab a PayPal shopping voucher for the same amount. 
The app also runs a referral scheme to help you accumulate Gold. If you refer a friend, you get 500 Gold points. 
You can keep an eye on your Gold through your Honey account by clicking on the extension or with the mobile app, which is available via the App store on iOS or Google Play Store on Android. 
What is the PayPal Honey Droplist?
The PayPal Honey Droplist is a feature that allows you to track and save on items you want. Adding items to the Droplist is simple - just one click will add it to the list, and Honey will track any price drops for the user. 
You could even set alerts to be notified when there is a sale on something on their Droplist. The PayPal Honey Droplist is a convenient way for shoppers to save on their online purchases and to keep track of the price history of their favourite items. 
What are Honey Tips? 
Honey Tips appear on selected product pages and give you additional information about a particular product to ensure you get the best price. 
This works great on Amazon, as it allows you to view the price history for individual items, compare various products on Amazon to find the cheapest seller, and even add them to your list, so you get notifications when there are price drops. 
PayPal Honey: An overview 
Honey is a game-changer when it comes to online shopping. This app automatically searches for promo codes and applies them to your purchases, saving you money without any extra effort. 
It even offers Honey Gold rewards, allowing you to earn points towards gift cards at popular retailers. In addition, you can grab a PayPal gift voucher if you have a PayPal account. And the best part? Honey is completely free to use! 
The browser extension is a great way to save when shopping online and even benefit from cashback offers.