Having the right travel insurance can give you the peace of mind to enjoy your next trip.
Thankfully, finding travel insurance doesn't have to be tricky, even as you get older. Sure, premiums may be more expensive than what you would have once paid. However, many UK travel insurance companies cover pre-existing conditions and offer other elements tailored to older holidaymakers.
While all insurers will talk about the positives of their policies, what matters most are the opinions of those who buy them and potentially have to make a claim.
Let's look at what people say about some of the UK's leading travel insurance providers.
All TrustPilot figures correct as of 1st November 2023.
Allianz Travel Insurance
TrustPilot Rating: 4.3 from 49,907 reviews

Allianz Assistance, which takes in Allianz Travel Insurance, was incorporated back in 2014.
Upper age limit of 80.
Up to 180 days cover available with single trip insurance.
Request a personalised quote for your specific requirements.
As the TrustPilot rating shows, on the whole feedback has been relatively positive. In these unprecedented times, there has been huge demand for telephone assistance. As you might expect, this has placed short-term pressure on the service, with some reviewers highlighting difficult experiences.
It is important not to let short-term challenges for the industry overshadow the overall rating for Allianz Travel Insurance. Of the 49,907 reviews received, 76% were excellent, and 6% were great, which gives a clearer picture.
Staysure
TrustPilot Rating: 4.7 from 315,371 reviews

Staysure has been around since 2005 and has served over 8 million customers. 
Cover for pre-existing conditions.
Single or annual multi-trip cover available.
No upper age limit.
Generally, Staysure customers love how easy it is to buy a travel insurance policy. Many reviews mention how straightforward the process is and how easy it is to use the Staysure website. In addition, several positive reviews from people who contacted Staysure reported having an excellent experience with its customer service team. Fantastic customer service is usually a pretty safe sign of a reliable company! On top of this, Staysure customers love the different discounts and offers available from the site.
In terms of negative feedback, much of it focuses on difficulty renewing or cancelling policies.
Read Pension Times' comprehensive review of Staysure travel insurance here.
AllClear Travel Insurance

Incorporated in 2000, AllClear Travel Insurance has a deep-seated knowledge of the specialist medical travel insurance market. Consequently, the company offers a range of services for all age groups.
Upper age limit of 90.
Up to 94 days cover available with single trip insurance.
Request a personalised quote for your specific requirements.
As the TrustPilot rating shows, AllClear Travel Insurance has achieved fantastic feedback, with 84% rating their experience as excellent. While the 94-day cover available with single trip insurance is significantly less than some competitors, remember AllClear Travel Insurance is focused on over 50s market. Some of the other figures quoted, often up to 180 days, are often restricted for older age groups. Many customers have returned to AllClear Travel Insurance, having had a positive experience with previous policies.
In an exceptionally competitive market, AllClear Travel Insurance has attracted more than 116,000 reviews. Less than 1% rated the experience as poor or bad, 2% rated the service average, 13% great, and 84% excellent. Need we say more?
Medical Travel Compared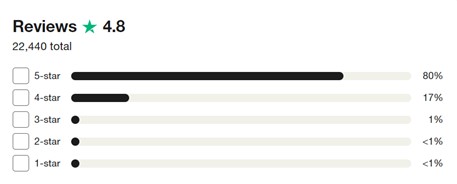 Since inception in 2013, Medical Travel Compared has been providing specialist medical travel insurance for a growing customer base. Direct access to a panel of specialist insurers allows the company to offer a range of travel insurance products:
Upper age limit of 90+.
Comprehensive cover for a range of medical conditions.
Personalised quotes available for specific requirements.
Medical Travel Compared offers an impressive mix of travel insurance deals with specific emphasis on medical cover. While cover details will vary from insurer to insurer, they will match or improve on the industry standard. Whether looking at single, annual multi-trip or long stay travel insurance, there are options from 50 up to 90+ years of age. It is important to remember that once you have chosen your insurance policy, communication should be directly with the insurance provider, not Medical Travel Compared. However, Medical Travel Compared will intervene on your behalf where the insurance company has failed to address your concerns.
Out of over 22,000 reviews, 17% rated the service provided as great with a staggering 80% leaving excellent feedback. Less than 1% rated Medical Travel Compared as poor or bad, with a further 1% posting an average review. In the event of negative reviews, the company has shown a willingness to address any issues both online and directly. What more can we say?
Avanti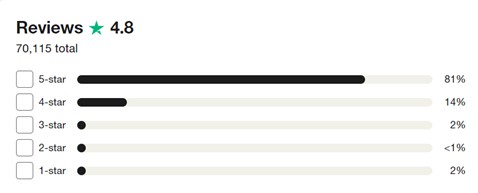 Avanti has offered a range of travel insurance products since launching in 2009.
No upper age limits.
Single or annual multi-trip cover available.
Personalised policies based on your specific needs.
Overall, it would appear that Avanti's customers are delighted with the services offered. The company received particular praise for the ease with which the website can be accessed via different devices. Elsewhere, Avanti quotes were seen as very competitive, the purchase and renewal process simple, and occasional discounts well received. The fact that the claims process is rarely mentioned suggests that the system works well!
Some reviews mentioned trouble accessing account information and Avanti emails falling into spam folders. However, these issues seem to be sporadic and by no means widespread.
Travel Insurance 4 Medical

Founded back in 1973, Travel Insurance 4 Medical has a long and successful history in the travel insurance industry. 
Huge range of pre-existing conditions covered.
Single or annual multi-trip cover available.
No upper age limit.
Travel Insurance 4 Medical has a relatively long history going back to 1973 and, according to reviews, an in-depth understanding of the market. Not only does the company cover a vast array of pre-existing medical conditions, but quotes are competitive and affordable. In addition, the online quote system allows you to tailor policies to your specific needs and budget, receiving a lot of positive feedback. An understanding approach to policy cancellations was also appreciated by reviewers, with refunds settled quickly.
Some concerns were expressed about the cumbersome renewal process, which didn't compare well to other providers. While there was some negative feedback about coronavirus-related claims in the early days of the pandemic, these now appear to have been resolved.
Globelink
TrustPilot rating: 3.9 from 1,011 reviews

Globelink has a 20-year track record in the industry and reports an impressive 70% return rate for its customers.
Insurance services tailored for senior citizens.
Single or annual multi-trip cover available.
Cover for the existing conditions.
Even though reviews for Globelink are relatively limited, a high number of those who posted feedback rated the company as excellent. There are positive references to cover for those in older age groups, with travel insurance cover for over 80s attracting significant praise. Most reviews expressed high satisfaction rates with Globelink's customer service, resolving policy issues relatively quickly with minimal fuss. With 90% of reviews rating the company as great or excellent, Globelink seems to be hitting the spot with consumers.
There was mixed feedback regarding terms of cover and frustration at rejected claims.
Saga
TrustPilot rating: 4.4 from 37,961 reviews

Founded in the 1950s, Saga has branched into other insurance services since then. Still, its core travel insurance remains one of the top such products in the UK.
Single or annual multi-trip cover available.
No upper age limit.
All pre-existing medical conditions considered.
Saga is, for many, the leading name in over 50s travel insurance and online reviews support this view. Feedback suggests the Saga website is easy to use, quotes are quick and competitive and buying insurance online is trouble-free. In addition, the company doesn't exclude any pre-existing medical conditions, which is a massive attraction for many. While there is specific reference to over 50s travel insurance products, reviews also cover other over 50s insurance services, which are, on the whole, very positive.
The only real drawback mentioned in these reviews was the waiting times to speak with customer services. Unfortunately, peak-time phone queues are often unavoidable. Still, there is the option to chat online with a representative or email your queries.
Read Pension Times' comprehensive review of Saga travel insurance here.
Direct Line
TrustPilot rating: 3.7 from 15,886 reviews

Direct Line is well-known for offering a range of highly competitive insurance services.
Purchase online for savings of up to 25%.
Single, annual multi-trip and backpacker cover available.
No upper age limit.
In a sector often dominated by jargon and small print, customer feedback has highlighted the easy to understand nature of Direct Line travel insurance policies. Amongst the many travel insurance reviews, there is specific mention of the clearly defined level of cover with each policy. Customers have also been waxing lyrical about processing times, with Direct Line's customer service receiving praise.
The negative feedback is a little misleading as much of this relates to other insurance services offered by Direct Line. However, some customers expressed concern about travel insurance renewal prices and individual issues with claims.
Read Pension Times' comprehensive review of Direct Line travel insurance here.
Free Spirit Travel Insurance
TrustPilot rating: 4.7 from 3,639 reviews

Free Spirit Travel Insurance was the first specifically designed for those refused coverage elsewhere due to their health, disability or age.
Specific cover for medical aids and prescribed medications.
Single or annual multi-trip cover available.
No upper age limit.
The number of people returning to Free Spirit Travel Insurance to renew travel insurance and enhance future travel cover says everything about the company. Customers obviously like what the insurer offers; they are satisfied with the cover and the straightforward approach to buying holiday insurance. There is also specific mention of the affordability and ease of finding customised travel insurance considering pre-existing medical conditions.
On the downside, some people mentioned issues with customer services and extended waiting times. There were also some negative comments about the claims process, with a small number experiencing difficulties.
UK travel insurance providers reviewed
The best travel insurance for you always depends on your individual needs and situation. What works for you might not work for someone else. Travel insurance prices also depend on personal circumstances. As such, different providers can provide widely varying quotes. But it can still be a good idea to check online reviews.
The above reviews indicate what different travel insurers are good at and the areas where they could improve. With reviews, it's essential to keep an eye out for the most recent feedback. If this is mainly negative, you might want to consider your choices. While much of it can be genuine and warranted, you also want to take some negative feedback with a grain of salt. Complaints regarding specific policies can be challenging to understand without knowing the full details. 
The companies listed in the article have high ratings and are generally a good pick. Overall, these UK travel insurance providers have a good selection of products. Comparing your travel insurance options is often the best way to find a policy that works for you.