When you consider the challenges facing the UK economy, the property market has performed admirably in 2020. According to Hamptons International, all areas of the UK are expected to show house price growth in 2020. Growth is expected to range from 3% in Wales down to just 1% in the East, West Midlands and prime central London property markets. Average property price growth across the UK is expected to come in at 2% for 2020. However, what does 2021 hold for the UK property market?
Economic uncertainty
The UK national debt has increased to more than £2 trillion for the first time; predominately because of the COVID-19 pandemic. That said, it is worth remembering the worldwide economy was still recovering from the 2008 global financial crisis when the COVID-19 pandemic arrived. The following table will give you an idea of recent economic growth forecasts for the rest of 2020:
| | |
| --- | --- |
| Period | GDP Growth % |
| 2019 Q1 | 0.7 |
| 2019 Q2 | -0.1 |
| 2019 Q3 | 0.5 |
| 2019 Q4 | 0 |
| 2020 Q1 | -2.2 |
| 2020 Q2 | -20.4 |
| 2020 Q3 | 15.5 (Estimated) |
| 2020 Q4 | -2 (Estimated) |
| 2020 (Total) | -11 (Estimated) |
Data source: Office for National Statistics
Because of the second lockdown in England, the Bank of England believes the UK economy will contract by 11% in 2020. This is a sharp reduction on the recent forecast from August, with 4th quarter GDP growth downgraded from +4% to -2%. If nothing else, this perfectly illustrates the challenges in forecasting economic growth quarter-on-quarter at the moment, let alone year-on-year.
What impact will the likes of Brexit have on the UK property market in 2021 and beyond?
How will UK house prices perform in 2021?
While the performance of the UK economy in general in 2021 will have a significant influence on property prices, there are also many other factors to take into consideration. Hamptons International research highlights a house price forecast for the coming years.
It will surprise many people to learn that UK property prices are expected to remain positive in 2020, fall back slightly in 2021, and then renew the growth trajectory. These figures will likely be subject to change as a consequence of additional issues such as:
There is now a major constitutional crisis within the United Kingdom, as the government battles to retain the Union of England, Wales, Scotland and Northern Ireland. This ongoing uncertainty is likely to hold back significant investment by companies and individuals until there is more visibility. Typically, you would expect this to impact house prices across the United Kingdom. However, the above forecasts suggest otherwise.
UK base rate
The UK base rate is currently 0.1%, with talk it could move into negative territory at any time. Negative base rates would discourage savings and encourage debt-fuelled spending as a means of supporting the economy. The level of UK base rates impacts many areas such as:
Mortgage rates
At the moment there are some very attractive offers in the mortgage market. Rates of between 1% and 1.5% fixed for up to five years are among those available. After the fixed term, you would revert to the SVR (standard variable rate), which is currently between 3% and 4%. A further reduction in the UK base rate would at worst limit any potential increase in mortgage rates, but likely lead to additional savings.
Demand for property
The UK property market has remained relatively robust, to the surprise of many financial experts. There was an initial surge in pent-up demand immediately after the initial knockdown, but this impact has started to wane. However, the withdrawal of many properties from the market has led to stock shortages, which has, to a certain extent, supported prices.
Other potential factors that may come into play include:
Unemployment.

According to the ONS, there are currently 2.5 million workers supported by the furlough scheme. Unemployment is currently 4.8% with optimistic experts predicting a peak of 8% over the next 12 months. Others believe UK unemployment could reach double digits, with approaching 4 million jobs at risk.

Mortgage availability.

The Bank of England is determined to maintain liquidity in the UK mortgage market. However, mortgage affordability calculations will become more difficult for many, as unemployment numbers continue to rise. The situation with lifetime mortgages and home reversion schemes is very different, with strong demand predicted.
UK house prices
The latest data from the Office for National Statistics (ONS) perfectly illustrates the relative strength of UK property prices. The graphs cover the period up to August 2020: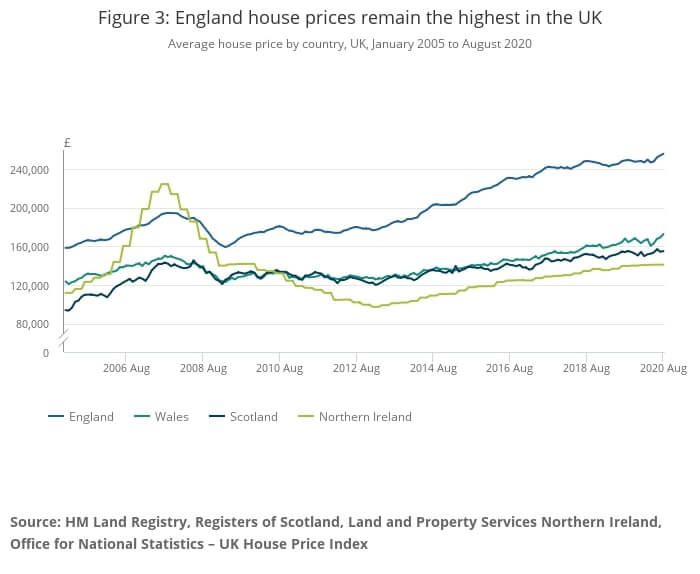 Source: Office for National Statistics
Source: Office for National Statistics
The recent trend across all parts of the UK has been positive, with the average UK house price now standing at a record high of £239,000. While there may be increased demand for local authority/social housing in the short to medium-term, long-term demand for UK private property is still relatively strong. Experienced real estate agents Knight Frank have made some interesting forecasts for the period 2020-2024:
6.9% increase in GDP

6.8% rise in real household disposable income

2.7% increase in employment
When you consider the short-term challenges facing the UK economy and property market, the forecast net increase in GDP, household disposable income and employment is encouraging.
Growing demand for remortgaging
While there is no certainty that UK base rates will move into negative territory in the short-term, they are unlikely to increase for some time. As a consequence, ongoing demand for remortgaging arrangements is likely to continue. These include:
Traditional remortgages
Many homeowners who took out their current mortgages on higher rates or are coming to the end of their fixed-rate terms are looking at remortgaging. While the SVR is averaging between 3% and 4%, there are some exceptional fixed-rate deals available. Those looking at relatively low LTV ratios will attract the best rates.
Lifetime mortgages
Some older homeowners will struggle to pass the standard mortgage affordability test for traditional remortgage arrangements. As a consequence, demand for lifetime mortgages continues to rise. Rates are falling, as you can see below, with a maximum LTV of 60%:
Source: Moneyfacts.co.uk
Home reversion schemes
Life expectancy in the UK continues to rise, leading to strong demand for home reversion schemes. This is likely to continue with older homeowners looking to release equity to reduce financial pressures in the future.
Property market predictions for 2021
The UK has faced many hurdles over the last 20 years. The economy has been volatile, and we have seen some short-term challenges for the UK housing market. On the whole, demand for UK property has remained surprisingly robust. Many experts predicted panic selling after the first lockdown came to an end (and after the Brexit vote of 2016). Instead, we saw the emergence of pent-up demand for UK property and a resurgence in property prices. The remainder of 2020 and 2021 will inevitably be challenging, with so much economic uncertainty, but longer-term, UK property prices are expected to continue their positive growth trend.
Property market predictions for 2021: FAQs
Will the housing market crash in 2021?
Most industry experts agree that you're better off taking a long-term view when buying a house. Due to the costs you'll incur when moving, experts suggest only buying a property if you plan on living in it for at least five years.
Is it better to rent or buy?
In most cases, buying a property will work out cheaper than renting in the long-term. However, whether renting or buying is better will depend on your circumstances and what you can afford, plus things like your age, work situation, and desired standard of living in retirement.