Let's look at what the future could hold for your mortgage, loans, pensions, savings, and current accounts in 2021.
Mortgages
Before the trading agreement between the UK and the EU, there was a relatively high chance that UK base rates were heading into negative territory. The Bank of England had been ploughing a cautionary path for some time, apparently readying businesses and the economy for negative rates. The "surprise" announcement of a trade deal prompted a massive sigh of relief across the country. However, further complications around Covid-19, and substantial financial support programs, could bring negative interest rates back onto the horizon.
UK standard variable mortgage rates

Source: Bank of England
Positives
Standard variable mortgage rates currently stand at between 3% and 4%. However, there is the opportunity to lock in some desirable short-term fixed rates. Some companies are offering fixed rates of between 1% and 2% for the next 2 to 5 years. Further downward pressure on UK base rates will, at worst, delay an eventual increase in mortgage rates. 
The more likely scenario would see a further softening in mortgage rates, prompting the potential for significant savings for first-time buyers and those looking to remortgage. Against the background of COVID, the UK property market has remained surprisingly stable. Therefore, we can also expect a significant amount of natural competition in the mortgage sector, keeping rates subdued.
Negatives
At first glance, it is difficult to see any negatives of a further reduction in UK base rates. In reality, some mortgage tracker arrangements will have minimum rates. Consequently, a further decrease in UK base rates may not lead to a reduction in some mortgage payments.
It is also worth reminding ourselves why we may slip into negative interest rates, significant challenges for the UK economy. With many businesses struggling to recover from the pandemic, an increase in unemployment will likely see mortgage companies tightening their lending criteria. This could also reduce loan to value (LTV) ratios, making it difficult for some buyers to secure finance.
Personal loans
There are several factors to consider when looking at personal loans/consumer credit in 2021. A recent report by accountants Ernst & Young has highlighted several issues many of us may not be aware of:
Consumer credit spending fell by 5.6% in 2020

Consumer credit spending is likely to increase by just 0.5% in 2021

Net lending via credit card/personal loans turned negative in 2020 for the first time since 2011

Consumers repaid a total of £15.4 billion towards credit products in 2020
As we touched on above, unemployment will increase significantly in 2021 as will consumer caution. This will undoubtedly lead to exceptional competition in the personal loans market, but there will be restrictions.
Positives
For those in a relatively healthy financial position, there may be many opportunities to refinance personal loans on significantly reduced rates. These terms could be enhanced even further if there is savings/collateral available. With minuscule interest rates on savings accounts, it may be more beneficial to use savings/collateral when refinancing personal loans. 
Negatives
Whether or not UK base rates fall further, many people will be tempted to refinance existing debt. As with mortgages, the conditions attached to the more attractive personal loan interest rates could be restricted. Finance companies are extremely cautious about taking on potential bad debts of the future, even with interest rates so low. It may take some negotiating to secure the best rates!
Pensions
In 2015 the UK government introduced an array of pension reforms. These allowed those with personal pensions to access their funds from age 55 and gave them additional withdrawal options. We also saw changes to the UK state pension in 2010. While the pension age will increase in the future, the introduction of the triple lock offered a degree of security. 
Under the triple lock system, the state pension annual increase will be the greatest of the following three measures:
Change in average earnings

Consumer Price Index movement

2.5%
Defined contribution personal pensions (money purchase) have been significantly impacted by asset price movements due to the pandemic. Those approaching drawdown, or in drawdown, will be most affected by this volatility.
Positives
As a consequence of the personal pension reforms of 2015, there is greater flexibility in how you take your pension payments. Therefore, those hit hardest by recent stock market volatility can delay drawdown or reduce current drawdown payments. This should allow pension funds to increase in value when the UK economy returns to growth. There is also a degree of security for those dependent on the state pension, with the triple lock guarantee.
Negatives
Those who depend on their pension drawdown, with no option to delay or reduce payments, will be hit hardest. There is every chance they will see the expected longevity of their pension funds reduced. If the rumours are correct, the UK government may also be looking at removing the triple lock state pension guarantee. So far this has been denied, but it would appear there is no smoke without fire.
Bank accounts
UK base rates are currently at their historic low, with the potential to fall further, which has had a considerable impact on savings rates. Current account interest rates have also suffered, often experiencing even more significant falls with many now attracting no interest. If UK base rates were to fall below zero, this would further impact current and savings account interest rates. The reason behind this is simple; further reductions in interest rates would reduce returns, prompting people and businesses to borrow, spend and invest. This would help to grow the economy, create jobs and encourage a more positive feelgood factor.
Bank of England base rate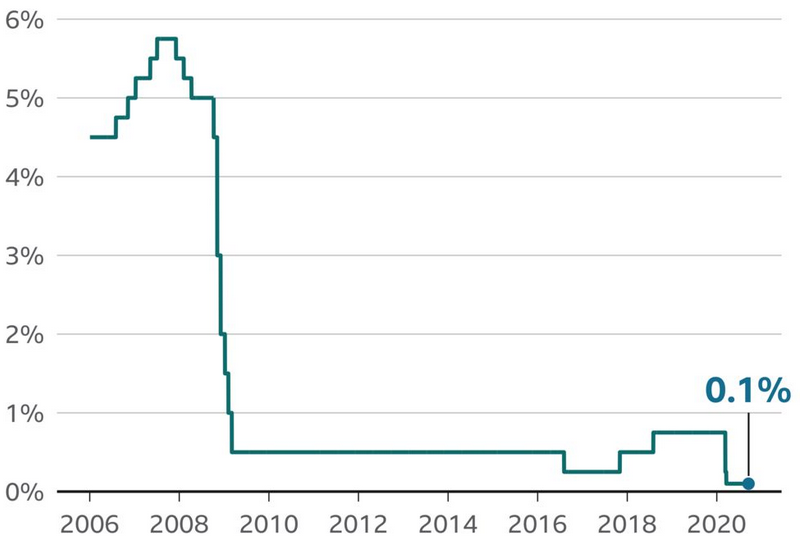 Source: Bank of England
Positives
Current bank account interest rates are minimal and have been so for some time. As we touched on above, many people have decided to use their savings to repay outstanding personal loans and credit card debt. While average personal loan interest rates tend to be under 10%, some credit card rates can be more than 20% per annum. As a consequence, using savings to pay down debts could lead to significantly reduced interest charges.
Negatives
While the UK government and the Bank of England look to breathe new life into the UK economy, savers have become the main victim in many ways. The clamour to reduce the cost of finance, to encourage consumer and business spending, creating additional support for the UK economy, has significantly reduced interest on savings. 
Even though the 12-month inflation rate, as measured by the Consumer Prices Index, fell to just 0.3% in November 2020, this is still higher than many current/savings account interest rates. Measures to refloat the UK economy will likely see inflation rising. This will lead to a real-term reduction in the value of funds currently held on deposit.
Challenges ahead in 2021
Since the US mortgage crisis of 2007/8, the worldwide reduction in interest rates has seen savers penalised to the greatest extent. On the flip side, those looking to refinance existing debt, or take out new credit arrangements, might access some of the lowest rates in living memory. That said, many lenders have quietly been tightening their credit lending criteria. 
While 2020 will be remembered as the year of the COVID pandemic, 2021 should hopefully be the year in which the recovery began.