If you are approaching retirement, you might be looking to maximise your savings. But if your budget is already strapped, saving anything at all might seem like a pipe dream. You are not alone. Nearly 20% of over 55s have less than £1,000 in their savings accounts. 
This figure doesn't account for pension pots. At the point of retirement, the average pension pot amounts to just under £62,000. This seems high, but it only equates to around £3,000 per year in additional income on top of your state pension.
But saving a little extra for retirement and living below your means doesn't have to be difficult.
Savvy savers manage to squirrel away sizeable chunks of money just by making a few tweaks to their spending habits. Whether it's finding the best energy deal, using balance transfer credit cards, or saving on your food shop, putting away extra money doesn't require a complete overhaul of your lifestyle. 
Starting small and educating yourself about personal finance is a step in the right direction. However, it is up to you to decide what changes you feel comfortable with and how much extra cash you're looking to save. 
We spoke with Jenni Hill, finance writer and owner of Can't Swing a Cat, who told us: "There are ways to boost your retirement savings without pouring more of your own earnings into your pension pot. Do you know what fees you're paying on your investments? It's surprising how quickly fees can eat into your profits and reduce the total amount you have invested. Slash these fees and your nest egg will grow faster. Before making any big changes to your pension, seek financial advice."
*Starling Bank will not charge you withdrawal or currency conversion fees, but some ATMs may charge a fee.
**On top of this amount, some ATMs may charge a fee
Dealing with debt 
Paying off high-interest credit cards or regularly going into an unarranged overdraft is a surefire way to waste money that could have gone straight into your savings account. But what do you do if your budget simply doesn't stretch far enough and you're forced to borrow to deal with your bills? 
Balance transfer credit cards 
If the interest rate on your credit card is eyewatering and you are racking up debt every month, it may be time to look for a balance transfer credit card. 
This type of credit card could save you thousands in interest while allowing you to pay off your debt quicker. It works by transferring your current balance to a new card with low or 0% interest rates. Here's what's involved: 
The balance transfer credit card usually carries a 0% interest on the balance you transfer from your old cards
This 0% interest deal is limited to a specific period, usually up to 35 months 
There may be a limit on how much you can transfer as part of your offer 
You make repayments, pay off your debt, and you no longer rack up interest every month 
Fees usually apply, however. You may have to pay between 2-4% of your balance. This is added to your outstanding balance when you make a transfer 
Remember! The 0% interest applies to the balance you transferred rather than other purchases or withdrawals. Making purchases with these types of cards could rack up interest and defeat the purpose
Balance transfer credit cards can be a great way to deal with high-interest debt. They allow you to pay off your outstanding debt and rack up low or no interest in the process. But you should read the fine print to make sure the deal makes sense for you. 
Where to find balance transfer credit cards 
If you have decided you want to explore balance transfer credit deals, you may be wondering how to go about finding the best deal. Comparison websites will usually come up with the best deals for your circumstances. You could use Compare the Market or USwitch, for example. 
Un/arranged overdrafts
An unarranged overdraft happens when you spend more money than you have in your current account without prior agreement with your bank. 
Unarranged overdrafts will attract high-interest rates, ranging from 19% to 40%, depending on the provider. Also, if you have an unarranged overdraft, your credit score may suffer as your bank reports this activity to credit reference agencies. This will make borrowing more expensive or impossible, potentially damaging your savings and financial situation. 
If you feel like you need an overdraft, you should speak to your bank about arranging one for your bank account. They will agree on a limit with you and may even offer a small interest-free buffer, saving you money on interest. Another benefit is they will report your overdraft and how you manage it to credit reference agencies. If you stay within your overdraft and pay it off quickly, you may be able to build your credit score. 
For more information on your credit score and how accurate it is, see our article here. 
An overdraft is designed for short-term borrowing. Your overdraft could carry high-interest rates, and it can be cancelled by your bank at any point. While an overdraft can be helpful in short-term emergencies, it is essential not to become overly reliant on this type of borrowing as it can cost you a lot of money. 
If you are struggling with managing debt, you may benefit from seeking financial advice. StepChange, the debt charity, offers free debt advice, and it is regulated by the Financial Conduct Authority. 
Saving on your utilities, broadband, and insurance 
Whether you're shopping for car insurance, a new broadband deal, or looking to switch utilities, getting a cheaper deal is not out of reach. 
Use comparison websites
Using websites like Compare the Market or Uswitch allows you to view the most affordable deals for your circumstances. Even if you love your current provider, it is a good idea to check what other providers are offering before renewing. If you really want to stay with your provider, you could ring them to ask if they could bring their price down. They are likely to offer you a discount so you can make a saving anyway. 
Cashback deals
Websites like TopCashBack allow you to get money back by simply clicking through their link to access utilities and insurance websites before making purchases. For example, you could get a Sky TV and broadband package and earn up to £160 in cashback. It's also free to sign up and use, so it is a great way to save while spending. 
Hill told us: "I recently managed to reduce my broadband from £34 a month down to £18 a month, simply by switching provider. My old broadband provider started me out on a cheap deal but once my contract ended, they began increasing the price every few months. My new provider will probably increase my fees over time too. Thankfully I know better now and when my price increases again, I won't hesitate to switch. As someone who works from home, I know how frustrating downtime can be. Thankfully, I was only without internet for about half an hour while I waited for the switch to take place."
Saving on your food shop 
Saving on your food shop doesn't mean you need to go hungry or scrimp on essentials to make significant savings. But there are some simple hacks you could implement to get a cheaper deal. 
Own brand products 
Most major retailers offer own-brand products that cost a fraction of the price of branded items. For example, Tesco's Stockwell brand offers instant coffee costing just £0.70. The most expensive premium brand on offer costs £5.49 for the same amount of coffee.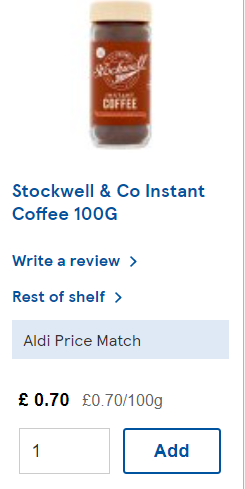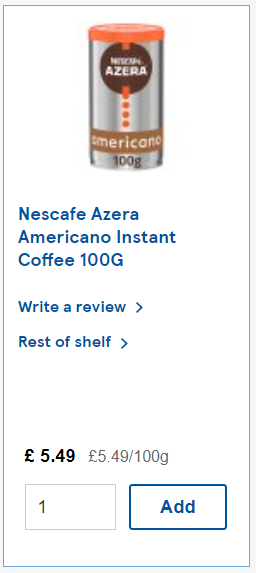 The same pattern can be observed with other essentials. Tesco's Stockwell's flour costs £0.45 for 1.5kg at Tesco. A similar premium branded product cost £3 for the same amount. 80 teabags from Tesco's Stockwell brand cost £0.55, but a premium, organic brand will charge you as much as £13. 
It may not make sense to swap all your products to the retailer's own brand version. For a coffee connoisseur, spending more on premium coffee may make sense. But opting for own-brand products in some cases could save you a significant amount of money over time. 
For example, if you buy flour once a month, you'll spend £5.40 over a year if you opt for Tesco's own brand. Opting for a premium, organic product will set you back £36. That's a saving of £30 just by switching brands. Think how much you could save if you replicate the same process with other branded products you've been buying! 
A poll surveying more than 1700 Brits who opted for their own brand products revealed they saved £1200 just by ditching premium brands. 
Shop at the right time 
Most supermarkets offer yellow sticker reductions on food items that are about to go past their best before or use-by date. These reductions are usually done in the evening to ensure that products that can't be displayed the following day are sold rather than wasted. 
Nothing is stopping you from purchasing reduced items and freezing them to use at a later date. Reductions could save you up to 75% of the original price, resulting in a significant saving if you're willing to shop later in the evening. 
Too Good To Go 
Too Good To Go is a free app you can download if you have a smartphone. The app aims to eradicate food waste by encouraging shops and restaurants to sell 'magic bags' of food items close to their expiration date at a discount. 
You could get a magic bag filled with various items from places like Morrisons and Costa. This bag costs a fraction of the price of what you would usually pay for the things it contains - a £3.50 magic bag comes with £10 worth of food. So you will not only be saving the planet by helping eradicate food waste but also saving a nice chunk of money. 
Socialising frugally 
Before the coronavirus pandemic, eating out and socialising cost a fortune. In fact, a third of Brits surveyed said they reduced their spending during the first lockdown, with 52% claiming eating out as their most significant saving. 
You don't have to replicate lockdown levels of socialising to save big, though. Websites like Groupon and Wowcher offer massive savings on outings in your area. For example, you could get 50% off on a boozy afternoon tea for two, or even a BOGOF spa day, depending on where you live. All you have to do is purchase a voucher code via the website and make sure you're aware of any instructions or restrictions associated with the offer. 
If you have friends over for a takeaway, why not try recreating it at home? Not only will your home-cooked meal likely be healthier than a traditional takeaway, but you are also likely to save big.
Cancelling subscriptions 
You may have several direct debits and standing orders you have completely forgotten about. You are not alone. The average person wastes a staggering £30,000 in forgotten direct debits throughout their lifetime. 
And even if you know exactly where your money is going, you may be signed up to multiple streaming services, including Amazon Prime, Netflix, Disney+, and BritBox, to name a few. Do you really need to be subscribed to all of them? The subscription costs can add up, so it is worth checking how much you could save by cancelling some of your subscriptions. 
Hill said: "Next time you sign up for a free trial with the intention of cancelling before getting charged, make sure you set an alarm as a reminder. I get a notification a couple of days before the free trial is meant to end, meaning I can cancel without paying a penny."
Setting up a budget is a great way to weed unnecessary expenses out. If budgeting is of interest, check out our detailed guide on getting started here.
Limiting consumerism, saving money and the planet 
Rampant consumerism is unsustainable. Our planet is on fire, and our shopping habits are burning a hole in our wallets. But how do we change our spending patterns and save money in the process? 
The 30-day rule 
Seen something you really want? The money-saving 30-day rule is a simple hack designed to avoid impulse purchases you might regret later. 
When you see something you like, wait 30 days before purchasing it. If you still feel like you want it, buy it. If you've realised you don't need it after all, or if you've forgotten about it altogether, you've just saved yourself some cash and avoided cluttering your house with unnecessary items. 
Hill gave us another amazing tip, saying: "Unsubscribe from newsletters that inspire you to overspend and delete any apps that cause you nothing but trouble. 10% off a pair of jeans or £5 off your next takeaway may seem like a good deal, but these offers are designed to make you spend money, rather than save it."
Buy used, save the planet
Looking for a new dining table? Not keen on spending hundreds for a flatpack veneer special that will need replacing in a few years? Then buy used. Not only will you save the planet, but you'll often purchase quality products for a fraction of the price of a new piece of furniture. 
Places like Facebook Marketplace, eBay or Preloved allow you to view and bid on items. There is everything from antique pieces in need of a little TLC to upcycled furniture and flatpack favourites people no longer have a use for. 
Nowadays, you could furnish your home with elegant second-hand pieces bought online. So there is really no need to splurge on brand new stuff. 
But if you're not particularly tech-savvy or fond of shopping online, you could check out charity shops like the British Heart Foundation that have some great options as well. You could bag yourself a bargain and save money too. 
And furniture isn't the only thing you could buy used either. Refurbished mobile phones or laptops could save you hundreds if you don't need the latest tech. They can do the job just as well as a new product and often come with warranties, too, so you are protected if something goes wrong with your device. 
Saving money in all aspects of your life
Your day to day life provides myriad opportunities to save money without drastically overhauling your lifestyle. From balance transfer credit cards to switching to retailers' own-brand products and using cashback websites, there are many ways to stretch your budget to payday and make savings. 
You could start simply by creating a TopCashBack account and getting money back every time you shop. It costs you nothing but could result in excellent savings. If you are climate change conscious, shopping for second-hand furniture items could save the planet and your wallet, too. And there is nothing wrong with curbing consumerism as a whole. 
Opportunities to make savings are all around you; it's up to you to decide whether they are suitable for your circumstances.