As Covid-19 restrictions continue to affect all areas of the UK economy, virtual technology is becoming commonplace in the property sector. Virtual property viewings certainly save time and assist in the current environment. However, buyers and prospective tenants should be cautious. Do you see a real picture of the property during a virtual viewing?
Is the property market dinosaur finally adapting?
Since the Internet emerged into the mass market, we have seen considerable changes in our personal and business lives. Online services are now aplenty, retail to banking, advice to virtual tours and much more. Many critics believe that the property market is the final bastion to cave into the online revolution.
You only need to look at the differences in the current estate agency market compared to 20 years ago. Those unwilling to adapt to this new era have fallen by the wayside. New disruptive platforms have emerged, and consumers continue to demand more and more value for money. The revolution in virtual viewings had already begun long before the Covid-19 pandemic.
Buyers, sellers, tenants, and landlords are now making full use of these new services. However, don't get blinded by technology! Remember your aims and budget, and be ready to act swiftly, but with a degree of caution, if your offer is accepted.
Are virtual property viewings the future?
The reality is that virtual property viewings were already steadily gaining popularity, even before the Covid-19 pandemic. The ability to view numerous properties in one day, often from a significant distance, proves very useful to buyers and potential tenants. There are three main types of virtual property viewings.
3D virtual house tours
If you have ever looked at Google Street View, then you know exactly what to expect with a 3D virtual house tour. In many ways, this type of "tour" offers you a high degree of control, with an ability to look in every room, zoom in and zoom out. Many 3D virtual house tours will begin with an airborne view, then a look around the property after which you enter through the front door. Very impressive!
Popular property website PropertyWire.com has hit the nail on the head when it comes to virtual reality (VR) and the property sector:
"Although VR adoption has been an effective way for real estate to adapt in COVID-19, it will no doubt reach a stage where it's a permanent part of the industry."
Video walkabout
A video walkabout is literally video coverage of every part of the property, edited to give a professional glossy finish. Sellers and landlords want to show their property in the best light, while buyers or tenants are sometimes suspicious of the "perfect look". Many estate agents will offer to edit video walkabout footage for their clients.
Virtual appointments
Many people will be drawn towards 3D virtual house tours when you see the list of virtual viewing options. They are interesting, and give you a degree of control, but are not as good as virtual appointments. Using conferencing software such as Zoom, it is possible to connect with the property owner/agent and have a real-time look around the property. You can, to a certain extent, direct those showcasing the property and ask questions in real-time.
Don't get blinded by the technology
If this is your first time using virtual property viewings, it is difficult not to get blinded by the technology. Whether you are controlling a 3D virtual house tour, viewing a video walkabout or taking part in a virtual appointment, it can be impressive. If you are looking to buy a property, or looking to rent, there are still an array of other issues to take into consideration:
Check the area
Remember, any virtual tour will showcase the property in its best light. You wouldn't expect anything else. In a perfect pre-Covid-19 world, you would:
Visit the property in person

Check the neighbourhood and facilities

Research prices/rent levels of houses in the local vicinity

Review online crime statistics
Thankfully, using the Internet and various Google searches, you can still carry out the vast majority of these tasks from home. Google Street View, while not always up-to-date, will complement your virtual tour. This should give you an idea of the area, what to expect and whether the property price/rental figure offers value for money.
Stick to your budget
The UK property market has remained relatively strong throughout the Covid-19 pandemic. There has been a little more volatility, but house prices are still trending higher. The latest ONS statistics to September 2020 show that house price appreciation remained positive throughout the pandemic. Even though experts expect additional pressure due to the extended lockdown, UK property prices are still expected to end 2020 in positive territory.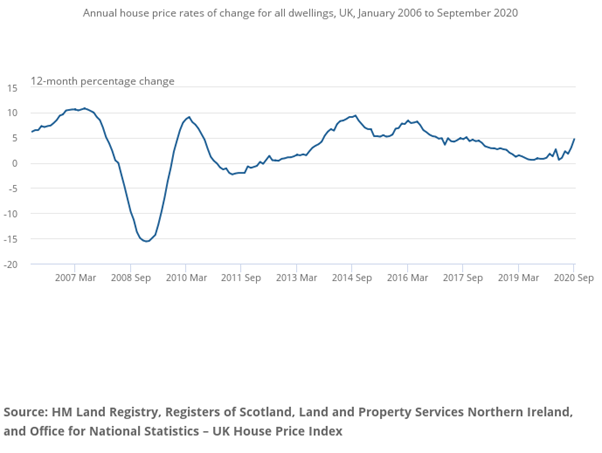 As you can see from the private house rental chart below, growth in rental values has slowed but is still in positive territory. Some experts predicted that the ongoing lockdown would create greater scope for negotiation with potential landlords, but this is not necessarily the case.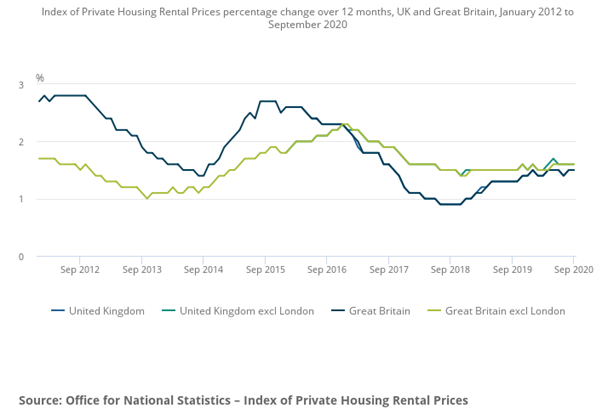 You will find the increased use of virtual property tours leads to an increase in the number of enquiries. This is the kind of competitive environment where it can be easy to get sucked into a bidding war. So, whether you are looking to buy or rent a property, never lose sight of your budget. Set yourself a realistic budget and if the bidding exceeds your limitations, walk away.
Don't rush legal checks and paperwork
If you manage to secure your dream property, you will often come under immediate pressure to close the deal as quickly as possible. You have had your virtual tour and the opportunity to ask questions, and now is the time to sign on the dotted line. Don't rush the paperwork!
Whether you're looking to buy or rent a property, there are still various checks and paperwork to complete. Failure to view the small print, carry out all necessary checks and ensure the paperwork is in order could prove very expensive further down the line.
The changing world of property
In a perfect world, all would-be buyers and tenants would visit properties in person, before signing on the dotted line. This will never change. The fact that you may be hundreds of miles away from the property, or stuck in a Covid-19 lockdown, has been a hindrance in the past. While not underestimating the power of virtual property tours, these are just one step on a frequently trodden path.
A professional virtual property tour can create intense competition and improve conversion rates. However, don't forget the additional standard checks, legal paperwork while always maintaining one eye on your budget.