Over the next couple of years, we will see changes in how UK pensions are administered and monitored. The ongoing development of the Pensions Dashboard Programme (PDP) will bring all pensions and, eventually, bank accounts under one dashboard. While there are considerable benefits for many people, does this program deliver for everyone?
There are numerous issues to take into account about online dashboards, especially those involving personal finance.
Does the PDP discriminate against technophobes?
We know there are many strands to the proposed PDP. However, there are some underlying concerns about whether it discriminates against technophobes. Many people have a genuine problem with using technology, especially online services, and the potential threat to their private/financial data. We know that the PDP service will be online, attempting to bring together all pensions held by an individual and eventually bank accounts. Does this discriminate?
At first glance, there is an argument to suggest that the service is to a certain degree discriminatory. However, is this any different from the services available at the moment?
Contacting your pension administrators
While many pension administrators have moved online, they continue to offer telephone and postal services. This will not change. The PDP is an option, not an obligation, although the government will be pushing this service in the future. While many people call for more focused online pension services, many still prefer to receive hard copies and use telephone services. On this basis, the discriminatory argument appears weak.
Tracing lost pensions
One of the planned PDP services to catch the eye is the ability to trace lost pensions. This has considerable benefits to those who have perhaps lost track or forgotten about pensions from years ago. In reality, the PDP service will bring together two essential pension tracking services covering:-
While it is advantageous to bring these two services under the PDP umbrella, they will still be available as individual services for those who do not have a PDP account.
What are the fundamental barriers/resistance to the PDP?
While the PDP working group continues developing and expanding on the original criteria, several potential barriers/resistance are starting to emerge. Some of these issues have already been identified and covered in detail by the PDP working group. It will be interesting to see how this pans out.
Identity theft
Those who use the PDP service in the future will have an account containing private and confidential information. This will be required to search and locate missing pensions, although many strict checks will be carried out. Even though much of the service will be automated, third-party pension administrators will still have a say in what information is delivered, to whom and in what format. In addition, they are actively involved in PDP online security, which is proving a challenging subject.
There are aspirations to eventually bring each member's bank accounts under the PDP umbrella to give a broader financial picture. But, again, concerns have been expressed regarding the use of personal information and whether this may be at risk. On the flip side of the coin, would this service be any different to the online banking many of us currently enjoy?
In recent years we have seen a significant increase in the number of over 60s using the internet. While there are many obvious benefits, there is also a need to be cautious. A recent survey by the Cyber Crew website unveiled some startling statistics:-
There were more than 10,000 posts on the dark web relating to identity theft

Those aged over 60 were hardest hit in 2018, showing an annual rise of 34%

76% of respondents surveyed in October/November 2018 viewed identity theft as a serious risk
Consequently, it looks as though the PDP working group will have a challenge persuading significant uptake of those services involving personal information. In many ways, this has been a challenge since the Internet first emerged and more recently as financial services moved online.
Online security
While a significant number of those in retirement remain concerned about online security, it is an issue we all need to acknowledge. There is an argument to suggest that many industries have not helped the situation by the late reporting of online attacks in the past. Indeed, many people are sceptical as to whether all data theft is reported in an orderly manner. Thankfully, various regulatory bodies now monitor and hold companies and public bodies to account for online security.
The introduction of the General Data Protection Regulation (GDPR) in May 2018 has also placed greater focus on online security. This has improved the broader concept of online security, but in reality, nothing is ever totally secure. For example, is using an ATM secure? Using your credit card in a restaurant is not foolproof?
Historically, many of us have blamed online security issues at the door of companies and other third parties. However, more recently, we have all started to become more aware of our obligations in this area. We are getting better at this, although it is an ongoing educational challenge to make everybody aware of the potential dangers.
Use of multiple identity providers
One of the main issues regarding the Pension Dashboard Programme (PDP) will be security and identifying all participating parties. We have recently seen an update on developments to this framework, referred to as the UK Digital Identity and Attributes Trust Framework. It looks as though the identity scheme will eventually consist of numerous organisations that align themselves to a specific set of digital identity rules.
As various contributors to the PDP will be from the same sector/region, they are already likely to have an identification system in place. It, therefore, makes sense to allow the array of identity providers to provide the information required. This information will be fed into the identity hub, and then consent and authorisation will follow after various checks. The following chart from the PDP website illustrates the proposed structure.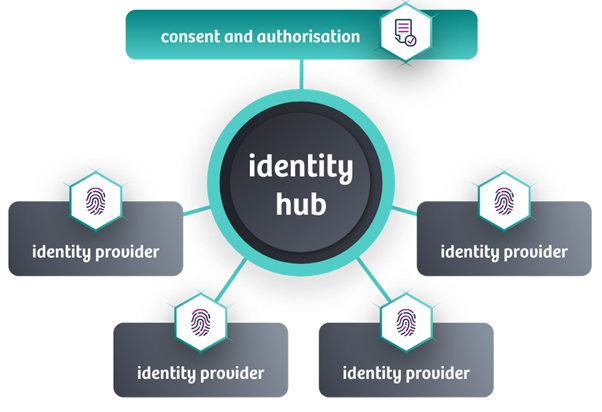 Source: Pensions Dashboard Programme
UK Digital Identity and Attributes Trust Framework
The framework for the identification element of the PDP is becoming more evident, with further details to follow. New rules regarding "good" identity verification will ensure that:
Products and services are inclusive
Privacy and data protection are ensured
Fraud management is central
Security follows recognised standards
This framework will ensure work already carried out by existing identification providers can be reused. This will instil a degree of confidence in industry providers and individuals accessing the PDP.
Key features of the UK Digital Identity and Attributes Trust Framework
It is anticipated that the framework detailed above may not be available during the testing stage. Consequently, a single identity supplier will be procured in October 2021 to cover the initial two-year testing period. By this time, the identity hub framework should be in place. The framework itself will cover numerous key areas such as:
Governance
Certification
Participation
Roles and responsibilities
Accessibility
Interoperability
Complaints and disputes
Encryption
Quality management
Information management
Information security
Risk management
Fraud management
Incident management
Privacy and data protection
Significant progress has been made concerning the framework of the PDP. It is now a case of "putting meat on the bone" in the above key areas.
Why can't PDP use existing government identity services?
Those who submit their taxes online will be aware that the UK government currently uses two different identity services:
Government Gateway
UK Verify
There had been speculation one of the above services was going to be incorporated into the PDP. However, this was never an option.  These identity services are only open to direct government services. Even though the PDP is part of the Money and Pension Service (sponsored by the Department for Work and Pensions), this is operated as an arms-length body. The involvement of commercial organisations is another factor as to why government identification services are not available.
How could PDP become more accessible?
The main issue when looking at offline accessibility is the overriding online automation concept at the heart of the PDP project. Consequently, it is difficult to see how those unwilling to open an online account can directly access their information under one umbrella. However, there may be a solution!
Trusted third parties
Recently, we have seen a significant increase in the number of people self-managing their finances using online services - similar to the PDP. However, most people still use a financial adviser with particular emphasis on pensions, where there are a growing number of options.
Many financial advisers already have access to various client investment accounts; it may be possible to replicate this with the PDP. We may see a scenario where financial advisers not only have access to your PDP account but may even set it up and manage it for you. This might prompt issues, especially amongst those in retirement, but is this any different from discussing your personal financial affairs with your financial adviser?
No silver bullet, no one-stop-shop
While many people are worried that online services will become mandatory going forwards, this will not be the case. This would alienate millions of customers; it may also be seen as discriminatory in the eyes of the law. So, whether you prefer online services or offline services, there will always be an option.
Even though the PDP is likely to prove very useful for those who prefer online services, let's not forget it only brings existing services together under one roof. These stand-alone financial providers will continue to offer postal and telephone services as long as their customers demand. Therefore, could it be argued the PDP is no more discriminatory than existing, stand-alone pension provider online services?