The idea of sitting down with loved ones and discussing your demise and your funeral is not a pleasant thought for anybody. Addressing funeral costs and funeral services before your death can sometimes feel like tempting fate. But in reality, as funeral costs continue to rise and the cost of living follows, it is essential to address life insurance and pre-paid funeral plans, if not just for your peace of mind.
Historically, there has been concern regarding the stability and security of individual funeral plan providers. Was your money safe? Are you getting value for money? Would they be able to deliver? The industry fell under Financial Conduct Authority (FCA) remit from 29 July 2022, strengthening consumer protection. The Funeral Planning Authority (FPA) previously oversaw the industry but didn't have solid or official legal jurisdiction. Now, consumers can rest assured their funeral plans are adequately regulated.
We will now attempt to demystify what can be a mysterious sector, correct common myths and give you an idea of what is out there and what to expect with your funeral arrangements.
What is a funeral plan?
In simple terms, a funeral plan is an easy way to pre-pay and pre-arrange your funeral service ahead of your death. While most people opt for cremation these days, there is also the option of a pre-paid burial funeral.
Focusing on removing pressure from loved ones when you die is easy. Still, there are some practical reasons to look at funeral plans, too. When you take out a funeral plan, you pay for your funeral at today's prices, protecting yourself from inflation. There are different types of funerals to consider, but in 2020, the average funeral cost £4,184.
Even though you can use both to cover the cost of a funeral, it is essential to differentiate between a life insurance policy and a pre-paid funeral plan. An insurance policy will pay out a predetermined amount on your death. How and when your executors and beneficiaries spend the money will depend on whether you have left specific instructions. In addition, you cannot redeem the insurance policy yourself; the moment you stop paying the premiums is when you die, and your life cover ends.
A pre-paid funeral plan will pay for a funeral of your choice. You can define the budget and whether there is a ceremony. All the funds from your pre-paid plan will be used to cover the cost of your funeral. If you decide to cancel your funeral plan, you will receive repayment of your premiums, less an administration fee, if the plan is more than 30 days old.
Why might you need a funeral plan?
The fact that pre-paid funeral plans lock in the cost of your funeral at today's prices is crucial, but it is not the only reason you may need a funeral plan. We all have very different financial scenarios, family lives, hopes, and aspirations for our loved ones. Let's consider some common reasons people look towards a funeral plan.
1. Ensure your wishes are followed
Even within the most harmonious family environment, there may be differences of opinion; emotions run high, which can often lead to conflict after your death. As part of your pre-paid funeral plan, you must set up your wishes in detail with a funeral director. This can help to avoid any uncertainty and infighting amongst your loved ones. So whether you are looking for a relatively simple cremation or a ceremony taking in an array of additional funeral services, the option is yours.
2. Create a funeral that fits your budget
Many of us struggle to focus in the early days of grief, and we often feel morally obliged to give our loved ones the "best send-off" possible. However, as the cost of living and the price of funerals grow, immediate finance may not be readily available. As a result, it is common for people to take out significant loans to fund funerals for loved ones – going above and beyond what they can afford. But in all honesty, a large, expensive funeral service can be as much for those left behind as it is for the deceased.
Taking out a pre-paid funeral plan allows you to regain control of costs and ensure that loved ones are not forced to seek finance to lay you to rest.
3. Chat through your ideas with loved ones
Hands up if you haven't got a clue what type of funeral your nearest and dearest would like. Have you ever actually discussed whether they want to be cremated or buried, what kind of ceremony they prefer or even who they want to perform the service? While many people have a vision of how they would like the day to proceed, it is always good to chat through your ideas with family members.
Might someone wish to read out a tribute? Perhaps your death could allow warring factions to come together? As your funeral is really for those who survive you, it may be helpful to give them some input when putting your plans together.
4. Pay for your funeral upfront
In the event of financial difficulties for those left behind, grants and funding are available for the most basic of funerals. The ability to pay upfront for your funeral ensures that you will receive a respectful, dignified send-off. It is also one less cost to cover in the future with potentially significant cost savings. As we touched on above, the cost of funerals has risen dramatically over the years. Locking in the cost of your funeral today via a prepayment plan can keep costs reasonable.
5. Remove stress from loved ones
Nobody wants to be a burden, place difficult financial pressure on loved ones and leave the payment and organising of your funeral to those grieving. However, taking out a plan to cover the cost of your funeral gives you not only peace of mind but also removes a degree of stress that far too many people experience. Additional financial stress when loved ones are grieving is a potential recipe for disaster. Emotions run high, and we can all say things we later regret in the heat of the moment.
6. Peace of mind
Good old-fashioned peace of mind! We enter this world with nothing, and we leave this world with nothing. So whether your death was expected or unexpected, it can provide immense peace of mind to know that your loved ones will not need to find funds to cover your funeral.
How much does a funeral cost in the UK?
If somebody was to ask you about the cost of a funeral today, would you have any idea? Would you guess it was £1000, £5000 or £10,000? Are cremations more common than burials?
The following graph gives you an idea of the split between cremations and burials:

Source: Sun Life
Most funerals are now performed in a crematorium, after which the deceased is cremated. Give or take a few percentage points, the split between cremations and burials has remained relatively steady in recent years. However, as the cost of a burial plot increases, together with associated expenses, we are likely to see a growing number of cremations in the future.
When it comes to the cost of funerals, as you can see from the table below, traditional burials and cremations have increased in price while direct cremations have fallen. The fall in the price of direct cremations is seen by many as a consequence of Covid. Consequently, it is expected to return to the historical trend in the short term.

While there remains a significant bias towards cremations, the following graph will give you an idea of the average cost of funerals in recent times. There are also estimates up to 2025, demonstrating the expected cost increase.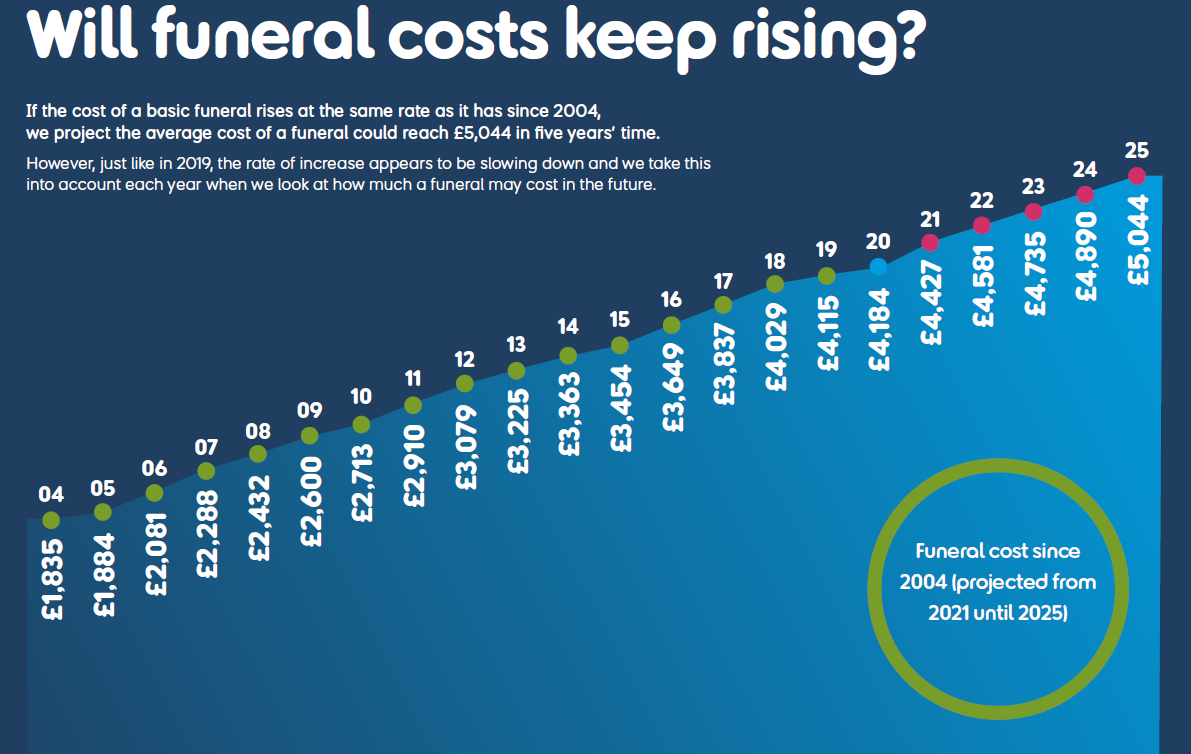 Source: Sun Life
The increase from £1,835 in 2004 to £4,184 in 2020 translates to an annual increase of 5.3% over 16 years. Even though inflation is currently high, historically, it has been well below the 5.3% figure used in this calculation. But the impact of compound inflation over 16 years has resulted in a 128% increase in funeral costs! Under the same scenario, using £4,184 as the base price today, in another 16 years, this would rise to £9,559.
Locking in the price of your funeral today has the potential to avoid rising costs in the future!
Different ways to pay for your funeral plan
There are two ways to pay for your pre-planned funeral; lump sum or instalments. Premiums can start from under £10 a month, but the one-off cost or premiums tend to be higher for those over 50.
Lump-sum payments
After you have agreed on the details and cost of the funeral, you would cover this with a single payment. If you were to die one day after making the lump sum payment, your funeral costs would be covered as agreed.
Regular instalments
Many people choose to make regular instalments towards their pre-paid plan, which may be over just a few months or up to 25 years. However, if your payment term is more than one year, there will likely be additional costs that will be added to the funds used to pay for your funeral.
If you die within two years of starting a monthly instalment pre-paid plan, the provider will repay the premiums to your executors or family. Therefore, you would not be covered for the cost of your funeral. However, if you were to pass away after two years, the guarantee provided by many pre-paid plan providers would be activated. Consequently, your funeral costs would be covered as previously agreed.
How do funeral plans work?
While what your specific funeral plan covers and how it works will vary between different providers, there are three main categories, which are broadly the same.
Direct cremation or burial funeral plan
While cremations are much more common in the UK, some people prefer to be buried after their death. A direct cremation or burial funeral is a basic service with no fuss and no ceremony. This pre-paid funeral plan tends to be more popular amongst those with limited family and friends.
Costs covered with this type of plan include:
A simple coffin
A cremation or burial with no ceremony
Return of ashes if the deceased is cremated
While direct burial or cremation fees can vary between different areas of the country, it is a fraction of the cost of a traditional funeral with a ceremony. However, you should check the terms and conditions as some plans will only contribute to a burial, not cover the cost in full.
Traditional funeral plan
The traditional funeral plan involves a burial or cremation and a ceremony to celebrate the deceased's life. This is by far and away the most popular type of funeral plan because it offers a degree of dignity with the cremation or burial and the opportunity for loved ones to pay their respects.
Costs covered with a traditional funeral plan include:
Doctor's fees
Additional fees like laying in a chapel of rest for viewings
Cremation or a contribution to the cost of a burial
A more expensive coffin
Ceremony
Hearse
Headstone or return of ashes to loved ones
You may be surprised to learn that some pre-paid plans only contribute to the cost of a burial. This is because of unknown variables associated with a burial. Such as the cost of a plot, which can vary widely across the country.
Traditional funeral plan with extras
While different funeral plan providers will offer a slightly different take, the three main plan types are basic, traditional and upgraded funeral. The standard funeral plan with extra costs, sometimes referred to as a premium plan, might include additional funds to cover the following:
A high-quality coffin
Two limousines
Transportation to a separate service
More options around the time of the funeral (funerals are typically more expensive from Friday to Monday)
There is also an array of additional extras you can negotiate with the funeral plan provider to personalise your funeral. One of the benefits of discussing your funeral before your death is that you can also personalise the ceremony.
Standard services
After the plan holder's death, several standard services will be available to their immediate family and friends, including:
Direct contact with the funeral director to determine the burial or cremation plan
Assistance with registration and collection of paperwork
Collection, embalming, preparation and care of the deceased
Opportunity to view the deceased at a chapel of rest
Professional advice or bereavement counselling
Each of the pre-paid plan providers may offer a different tweak on the standard services, but in effect, they help with the paperwork and, more importantly, support.
Additional expenses
We regularly see extras added to funerals to make them more personal. Some of the traditional additions include:
Flowers
Press notice
Catering
Private service
You tend to find that most funeral directors will accommodate most requests within reason. While many people feel pressure to cover additional expenses themselves, there is no right or wrong way to celebrate an individual's life. Again, this reiterates the benefit of arranging a pre-paid funeral plan to remove this pressure and "obligation" felt by many.
Changing trends
Over the years, we continue to see changing trends in funerals and celebrations. Some of the more common trends today include:
Themed funerals
Environmentally friendly funerals
Specified dress code
Broadcasting via social media
This is just a snapshot of some of the emerging trends in the funeral world. If you require something different, just ask!
Regulatory cover
As noted earlier, the FCA began regulating pre-paid funeral plans on 29 July 2022. The FCA authorised 26 providers, representing 87% of the market. Funeral plan providers across England, Scotland, Wales and Northern Ireland now answer to the FCA. The new rules strengthened consumer protection and mean users can complain to the Financial Ombudsman Service (FOS) or Financial Services Compensation Scheme (FSCS) in case of problems.
The FCA carries extensive checks on service providers to ensure fairness. More protection is on the way, as the FCA plans to introduce a new consumer duty from July 2023.
Have you considered your funeral plan?
Historically, there was a degree of mistrust and misunderstanding regarding pre-paid funerals. However, over the last decade, we have seen significant improvements in services, more transparency and greater formal and self-regulation.
The key to a pre-paid funeral is that most funeral directors are flexible about non-standard requests. But let's remember the purpose of the industry and individual services is to give you greater control over how you are laid to rest.